Chocolate Blueberry Cream Pie
Summer 2014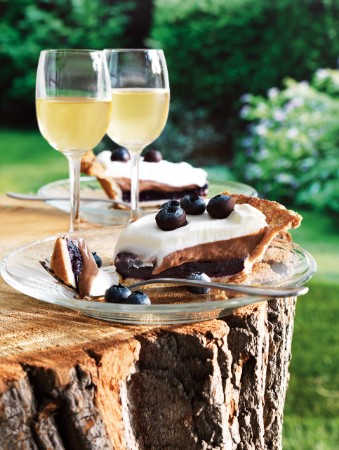 Chocolate Blueberry Cream Pie
Summer 2014
BY: Jennifer MacKenzie
Cream pies never fail to charm guests whether purely from nostalgia or because they're so luscious and tasty… Or maybe it's a little of both! This new version gives you that classic rich chocolate filling with a surprise inside—blueberry filling—delivering a summery twist and, of course, the fluffy whipped cream on top.If you're feeling patient, dip the blueberries in chocolate for the garnish, as in step 5, or if you're in more of a freestyle mood, arrange the blueberries on the cream and drizzle the chocolate overtop.
CHOCOLATE FILLING
1 cup (250 mL) milk
¾ cup (175 mL) whipping cream, divided
¼ cup (60 mL) granulated sugar
2 eggs
2 tbsp (30 mL) cornstarch
3 oz (90 g) dark chocolate (65 to 72%), chopped
2 tsp (10 mL) vanilla extract

BLUEBERRY FILLING
2 cups (500 mL) blueberries
¼ cup (60 mL) granulated sugar
1 tbsp (15 mL) fresh lemon juice
1 tbsp (15 mL) cornstarch
1 tbsp (15 mL) water
1 deep-dish pie shell, 9 inches (23 cm) baked and cooled

TOPPING
1 cup (250 mL) whipping cream
2 tbsp (30 mL) granulated sugar
½ tsp (2 mL) vanilla extract
1 oz (30 g) dark chocolate (65 to 72%), chopped
24 large blueberries, about½ cup (125 mL)
1 For the chocolate filling, combine milk and ½ cup (125 mL) of the cream in a medium-size heavy saucepan. Heat over medium heat until steaming and bubbles form around the edge. In a heatproof bowl, whisk together sugar and eggs until creamy. Whisk in cornstarch. Gradually whisk in hot milk mixture in a thin stream.

2 Pour egg mixture back into pan and cook over medium-low heat, whisking constantly, for about 5 minutes or until thickened and just starting to bubble. Remove from heat and whisk in chocolate until melted. Whisk in vanilla. Transfer to a clean bowl. Place plastic wrap directly on the surface to prevent a skin from forming. Refrigerate until cool, but not completely set, about 1 hour.

3 Meanwhile, prepare the blueberry filling. Combine blueberries, sugar and lemon juice in a medium saucepan and bring to a boil over medium heat, stirring often and mashing blueberries to release juices. Reduce heat and boil gently, stirring often, for about 10 minutes or starting to thicken and get jammy. Whisk cornstarch with water and stir into pan. Cook, stirring for 30 seconds or until thick and glossy. Spread in bottom of pie shell; place plastic wrap directly on the surface and refrigerate for about 30 minutes or until chilled and set.

4 Whip remaining ¼ cup (60 mL) cream in a chilled bowl and fold into cooled chocolate filling. Spoon on top of blueberry filling in pie shell, smoothing top. Refrigerate until set, at least 2 hours or for up to 1 day.

5 For the topping, whip cream in a chilled bowl until firm peaks form, beating in sugar and vanilla at the end. Spread on top of chilled pie. Melt chocolate. Using a toothpick to spear blueberries, dip halfway into chocolate and place on parchment paper until chocolate sets, then place on top of pie. Refrigerate for up to 8 hours.
SHARE