Chinese-Style Potato Slaw
Hiver 2017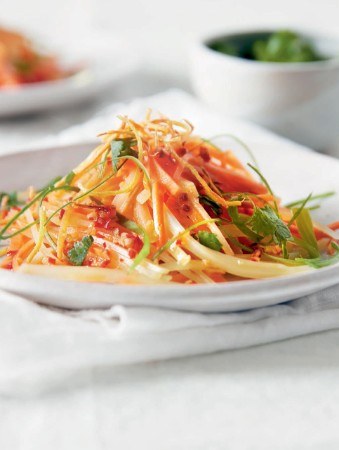 Chinese-Style Potato Slaw
Hiver 2017
BY: Eshun Mott
This unusual Chinese-style potato slaw is made with potatoes that are blanched then lightly dressed and topped with an infused oil, aromatics and fresh herbs. It is most delicious right after being made, though the potatoes could be blanched and marinated in soy and vinegar ahead of time. The most important thing is to watch the potatoes as they cook. The timing below is based on a ⅛-inch (3-mm) or slightly longer julienne but, however yours are cut, you want potatoes that are just cooked, with a hint of crispness. Almost reminiscent of noodles, this dish could be great for someone who eats gluten-free.
2 lbs (1 kg) Yukon gold potato, peeled and julienned
¾ lb (375 g) sweet potato, peeled and julienned
¼ cup (60 mL) seasoned rice vinegar
1 tbsp (15 mL) soy sauce
¼ cup (60 mL) canola oil
¼ cup (60 mL) julienned ginger
2 tbsp (30 mL) finely chopped garlic
2 tbsp (30 mL) finely chopped fresh red chili (seeded if desired) or to taste
Salt to taste
¼ cup (60 mL) chopped fresh cilantro
2 whole green onions cut on the bias into long thin strips
Bring a large pot of salted water to a boil. Fill a large bowl with cold water and a handful of ice cubes. Add peeled, julienned potato to pot and blanch for 3 minutes or until potatoes are tender but still slightly crisp. Working quickly, use a slotted spoon to transfer potatoes into ice water to stop them from cooking further. Return pot to a boil, add peeled, julienned sweet potato and cook about 1½ minutes or until they are also tender. Drain potato and sweet potato really well and transfer to a serving bowl. Add rice vinegar and soy sauce and toss until combined. Set aside.


Heat oil in a frying pan over medium heat. Add ginger and sauté, stirring, for 2 to 3 minutes or until ginger threads are browned and crisp. Use tongs to remove ginger and set aside. Add garlic and chili and sauté for 30 seconds to 1 minute or until fragrant and lightly golden. Pour over potato and toss with tongs to combine. Season with salt to taste. Add cilantro and green onions, and top with crispy ginger.
SHARE