Chinese Chicken Salad
Hiver 2015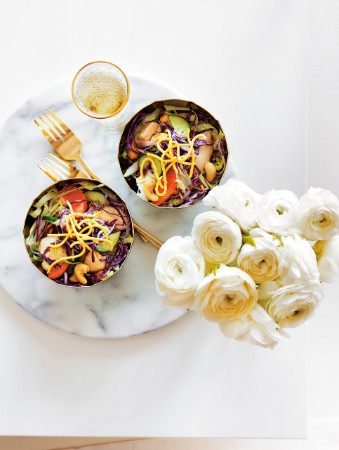 Chinese Chicken Salad
Hiver 2015
BY: Amy Rosen
Packed with every texture imaginable, this hearty main-course salad, full of moist chicken, crunchy veggies, crispy noodles and sweet oranges, offers distinct and delicious Asian flavours with every colourful forkful.
3 large boneless, skinless chicken breasts,
about 1½ lbs (750 g), cut into 1 inch (2.5 cm) chunks
2 tbsp (30 mL) honey
2 tbsp (30 mL) soy
1 tbsp (15 mL) fresh minced ginger
½ small head red cabbage, shredded, about 8 cups (2 L)
1 small head iceberg lettuce, shredded
¼ cup (60 mL) red onion, thinly sliced
½ English cucumber, sliced into half moons
3 Cara Cara or blood oranges, segmented
1 cup (250 mL) crispy chow mein noodles
1 cup (250 mL) salted cashews

DRESSING
3 tbsp (45 mL) sesame oil
¼ cup (60 mL) seasoned rice wine vinegar
2 tbsp (30 mL) brown sugar
1 tsp (5 mL) soy
Pinch chili flakes
2 tbsp (30 mL) vegetable oil
1 Preheat oven to 400°F (200°C).

2 Toss chicken with honey, soy and fresh minced ginger. Spread on a parchment-lined cookie sheet and bake for 10 to 15 minutes, or until cooked through.

3 In a very large bowl or on a grand platter, gently combine chicken, cabbage, lettuce, onion, cucumber, orange segments, crispy noodles and cashews.

4 Stir together sesame oil, vinegar, sugar, soy and chili flakes. Whisk in vegetable oil until combined. Toss with salad and serve immediately.
SHARE