Chilorio Taco
Spring 2013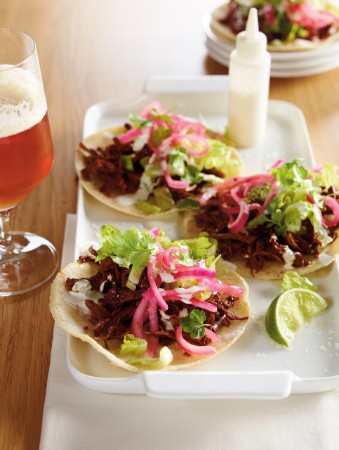 Chilorio Taco
Spring 2013
BY: Lucy Waverman
C Casa's tacos pack a punch. Once the meat is cooked and the chili paste is made, the rest is easy. I make double the amount of chili paste and keep it refrigerated to spark up other dishes or other tacos. Dried chilies are available at Latin American stores or by mail order online. Use house-made or store-bought corn tortillas.
MEAT
2½ lbs (1.25 kg) beef chuck in one piece
1 small onion, chopped
2 bay leaves
1 cup (250 mL) water

CHILI PASTE
5 ancho chilis, deveined and seeded
2 guajillo chilis, deveined and seeded
2 cups (500 mL) boiling water
6 garlic cloves
1 tsp (5 mL) dried oregano, preferably
Mexican oregano
1 tsp (5 mL) whole black peppercorns
½ tsp (2 mL) cumin seeds
¼ cup (60 mL) white wine vinegar
1 tsp (5 mL) sea salt

LIME CREMA
½ cup (125 mL) Mexican crema or regular sour cream
1/3 cup (80 mL) lime juice

TO FINISH
12 white corn tortillas, warmed
6 cups (1.5 L) chopped romaine, micro greens or baby spinach
Marinated Red Onions (recipe follows)
Sea salt
Cilantro sprigs
1 Preheat oven to 350°F (180°C).

2 Add meat to an ovenproof pot with onion, bay leaves and water, cover. Braise the beef for at least 3 hours or until tender and meat starts to fall apart. You can also use a Crock-Pot and cook on high for 6 hours.

3 Transfer beef to a platter and save cooking liquid for another use. Shred beef and return to roasting pan. Set aside.

4 While meat is roasting, toast the chilis in a skillet over medium heat for 5 minutes to release oils. Transfer to a bowl and pour 2 cups (500 mL) boiling water over chilis. Let soak for 15 minutes. Strain chilis, reserving liquid. Add garlic, oregano, peppercorns, cumin, vinegar and sea salt along with chilis into a food processor and purée. Add some reserved chili water, if needed, to make a thick paste.

5 Stir chili paste into roasting pan with shredded beef. Cook over medium heat until paste has covered the meat and the meat is hot.

6 Mix sour cream and lime juice and put in a squeeze bottle for easy dispensing.

7 To assemble, put meat on top of the warmed corn tortilla. Layer chopped romaine, micro greens or baby spinach and Marinated Red Onions; drizzle lime crema overtop. Finish with sea salt and a cilantro sprig.
MARINATED RED ONIONS

These marinated onions keep for 3 weeks, refrigerated, and are good tossed on salads and as a condiment for a charcuterie board.

1 lb (500 g) red onions sliced (2 large)
2 cups (500 mL) white wine vinegar
¼ cup (60 mL) cilantro sprigs
½ cup (125 mL) lemon juice
½ cup (125 mL) orange juice
½ tsp (2 mL) salt
1 Put all the ingredients together and marinate for at least 24 hours. Forty-eight hours is best as the acid "cooks" down the onions for a tasty condiment.
Makes approximately 3 cups (750 mL)
SHARE