Chilled Pea and Lovage Soup with Seared Sea Scallop
Summer 2005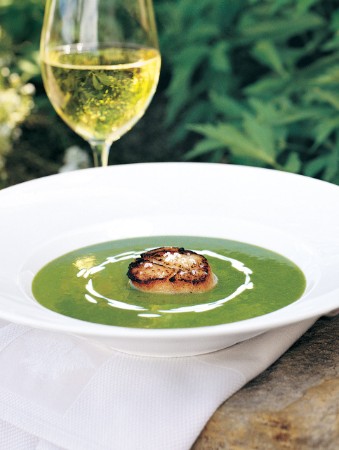 Chilled Pea and Lovage Soup with Seared Sea Scallop
Summer 2005
BY: Lucy Waverman
A delicate, green-hued soup that looks glorious with the seared white scallop swimming on top. You can use frozen peas for this soup but don't defrost them.
3 cups (750 mL) water or stock
6 lovage leaves or 1 tbsp (15 mL) chopped mint leaves
½ tsp (2 mL) salt
1 tsp (5 mL) sugar
2 cups (500 mL) fresh peas
2 tbsp (25 mL) vegetable oil
4 large sea scallops
Sea salt
½ cup (125 mL) crème fraîche (recipe follows) or yogurt (optional)
1. Place the water, lovage leaves, salt and sugar in a large pot. Bring to a boil slowly, and simmer for 1 minute.

2. Add the peas and simmer for 2 to 3 minutes or until tender. Remove from heat. Purée in a blender or food processor to make a very smooth soup.

3. Check seasoning and refrigerate to keep the colour a good green. Chill 4 soup bowls.

4. Heat a skillet on high heat and add oil. Add the scallops and sear until both sides are golden brown and the centre is just warm, about 1 to 2 minutes a side - do not overcook. Season with sea salt.

5. Pour the soup into bowls. Place a scallop in the centre of each bowl. Drizzle on crème fraîche. Serve immediately.

Crème Fraîche
2 tbsp (25 mL) buttermilk
1 cup (250 mL) whipping cream

1.  Combine buttermilk and whipping cream. Leave on counter in warm place for 24 to 36 hours, stirring occasionally until thickened.

2.  Refrigerate for up to 2 weeks.
SHARE