Chilled Pea Soup and Mint Cream
Début de l'été 2009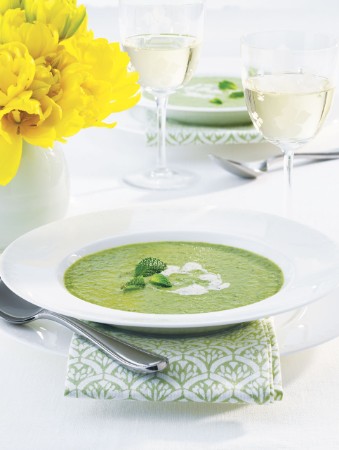 Chilled Pea Soup and Mint Cream
Début de l'été 2009
BY: Tonia Wilson-Vuksanovic
This pea soup is quick to make and can be prepared the day before to allow you more time to spend with mom.
2 tbsp (25 mL) butter
1 cup (250 mL) shallots, finely diced
2 tbsp (25 mL) all-purpose flour
1⁄2 tsp (2 mL) ground coriander
3 1⁄2 cups (875 mL) chicken stock, warmed
3 cups (750 mL) frozen peas
1⁄4 cup (50 mL) 35% cream, plus 2 tsp (10 mL) for garnish
1⁄4 cup (50 mL) fresh mint coarsely chopped, plus 1 tsp (5 mL) for garnish
1 tbsp (15 mL) full-fat sour cream
Salt and white pepper to taste
1. Heat butter in a medium pot over low heat. Sauté shallots until tender and translucent, about 10 minutes, make sure not to brown them.

2. Add flour and coriander, stir together with the shallot mixture.

3. Whisk in 1⁄2 cup (125 mL) of stock into flour mixture until a smooth paste is formed. Continue to slowly whisk in the rest of the stock.

4. Add peas, simmer for 5 minutes. Cool to room temperature.

5. Working in batches, purée the soup in a blender, along with 1⁄4 cup (50 mL) cream and 1⁄4 cup (50 mL) fresh mint. Chill completely in refrigerator.

6. While soup is chilling, stir together 1 tsp (5 mL) fresh mint, very finely chopped, 2 tsp (10 mL) cream and sour cream in a small bowl.

7. Thin chilled soup if needed with as mall amount of water. Season to taste with salt and white pepper.

8. Place soup in bowls and drizzle the mint cream garnish over top each.
SHARE