Chilled Clams with Fennel and Tomatoes Served on the Half-Shell
Début de l'été 2001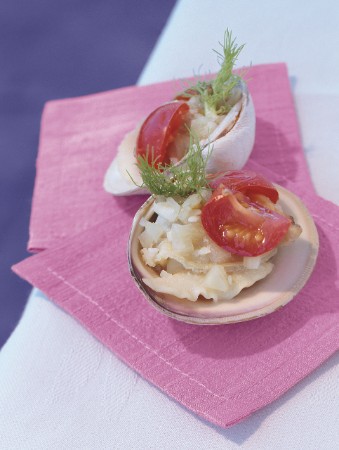 Chilled Clams with Fennel and Tomatoes Served on the Half-Shell
Début de l'été 2001
BY: Jennifer McLagan and Heather Trim
Clams can be cooked the day before and filled the day of the party.
36 large fresh clams
1 tbsp (15 mL) butter
1 small onion, finely chopped
4 large garlic cloves, minced
1/2 cup (125 mL) dry white wine
1 cup (250 mL) finely diced fennel
3 sprigs fresh thyme
1 cup (250 mL) cherry tomatoes, quartered
Fennel fronds for garnish
1. A couple of hours before cooking clams, place them in a large bowl. Fill with enough cold water to cover. Pour a large handful of cornmeal into bowl to dislodge any sand that may still be in clams. Refrigerate in water for one to two hours. Drain clams well.

2. Heat butter in a very large saucepan over medium heat. Add onion and garlic, cook until soft. Add wine, fennel and thyme, bring to a boil. Add clams, cover and cook for 10 minutes, stirring occasionally, just until shells open. Remove open clams and place in a bowl. Continue to cook until remaining clams open.

3. Remove clam meat from shell. Reserve the halves of shell that had no meat attached, discard remaining halves. Place meat in a bowl. Using a slotted spoon, scoop about 1/3 cup (75 mL) hot fennel mixture and add to clams in bowl. Stir in a couple of tablespoons of clam liquid and tomatoes until mixed. Cover and chill.

4. Arrange shells on a serving platter. Place a clam and some of the vegetable mixture on each shell. Garnish with fennel fronds.
SHARE