Chili Napa Slaw with Lime Mint Scallops
Summer 2010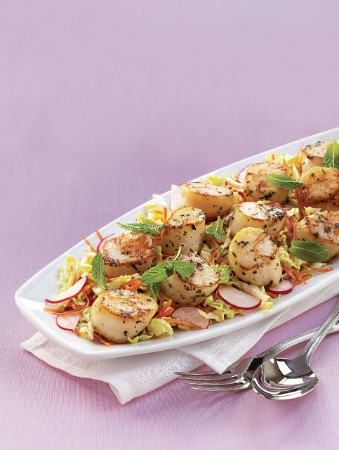 Chili Napa Slaw with Lime Mint Scallops
Summer 2010
BY: Jennifer MacKenzie
The refreshing crunch of cabbage and carrots contrasts the touch of heat from the chili peppers nicely in this easy, colourful slaw. You can decide how much chili heat you like—hot banana peppers add just a touch while jalapeño, cayenne and Thai bird chilies are progressively hotter. You can even divide the slaw in half and make two versions—justbe sure to label them! The scallops can be sautéed ahead but taste really great when cooked just before being served, and the hot and cold combination is nice, too. Try this with shrimp instead of the scallops or a mixture if you prefer. Use extra slaw as a filling for pitas or wraps or as garnish on a grilled beef sandwich.
Lime Mint Scallops

1½ lbs (750 g) large bay scallops, thawed
Vegetable oil
2 tsp (10 mL) chopped fresh mint
1 tsp (5 mL) grated lime zest
Freshly ground pepper
Sea salt
2 tbsp (25 mL) freshly squeezed lime juice

Slaw

1 large napa cabbage, halved lengthwise
and thinly sliced crosswise
8 radishes, halved and thinly sliced
4 carrots, shredded
2 hot chili peppers, halved and thinly sliced
½ cup (125 mL) freshly squeezed lime juice
⅓ cup (75 mL) vegetable oil
Sea salt and freshly ground pepper
Fresh mint
1. To make Lime Mint Scallops, trim off the small connective muscle from scallops, if necessary.Rinse and pat dry. Combine scallops,1 tbsp (15 mL) oil, mint, lime zest and pepper in an airtight container or a bowl, tossing to coat evenly. Cover and refrigerate for at least 30 minutes or for up to 1 day.

2. To make slaw, combine cabbage, radishes, carrots and hot peppers in a large bowl. Drizzle with lime juice and oil and season with salt and pepper, tossing to coat evenly. Cover and refrigerate for at least 4 hours or for up to 2 days.

3. To serve, heat a thin layer of vegetable oil in a large nonstick skillet over high heat. Season scallops with sea salt and sauté, in 2 or 3 batches to avoid crowding pan, for about 2 minutes or just until firm and starting to brown. Transfer each batch to a bowl as they're cooked. Add lime juice to pan and pour over scallops and season to taste with salt.

4. Taste slaw and season with more salt and pepper, if desired. Serve individual servings or a platter of slaw topped with scallops garnished with mint.
SHARE