Chili Beef Pot Roast with Corn & Peppers
Winter 2018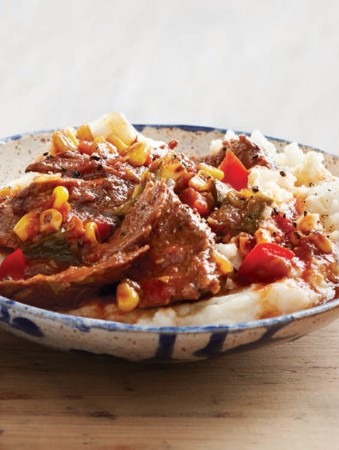 Chili Beef Pot Roast with Corn & Peppers
Winter 2018
BY: Jennifer MacKenzie
Pot roast is most often paired with root vegetables but here it takes a chili twist, slow simmered in a beer, tomato and slightly peppery sauce, then finished with bright and tasty sautéed corn and peppers. Serve with mashed potatoes or brown rice or with cornbread or crusty rolls to soak up the sauce.
3 lb (1.5 kg) boneless beef blade or cross rib roast
Salt and freshly ground pepper
¼ cup (60 mL) vegetable oil, divided
1 large onion, chopped
2 cloves garlic, minced
1 tbsp (15 mL) chili powder
¾ cup (175 mL) dark or amber beer
2 cups (500 mL) canned diced tomatoes
¾ cup (175 mL) beef stock
1 can (127 mL) diced green chilies
2 tbsp (30 mL) tomato paste
2 cups (500 mL) frozen corn kernels, thawed and drained
2 sweet red peppers, chopped
1 large poblano pepper, chopped
1. Preheat oven to 325°F (160°C).

2. Pat roast dry and season with salt and pepper. Heat 2 tbsp (30 mL) of the oil in a large skillet over medium-high heat. Sear roast, turning to brown all sides, for about 8 minutes total. Transfer to a large casserole dish with a lid or a Dutch oven.

3. Reduce heat to medium-low. Sauté onion in skillet for about 3 minutes or until softened. Add garlic, chili powder, 1 tsp (5 mL) salt, and pepper to taste; sauté for 1 minute, until fragrant. Pour in beer and bring to a boil, scraping up brown bits stuck to pan. Add tomatoes, beef stock, green chilies and tomato paste; return to a boil, stirring often.

4. Pour tomato sauce over beef. Cover and braise roast in oven for 2½ hours.

5. After about 2¼ hours, return skillet to high heat. Add 1 tbsp (15 mL) of the remaining oil and heat until shimmering. Spread corn in skillet and cook, stirring once, for about 5 minutes or until slightly charred; transfer to a bowl. Add remaining 1 tbsp (15 mL) oil, then add red peppers and poblano pepper. Cook, stirring once, for about 5 minutes or until slightly charred. Season vegetables to taste with salt and pepper.

6. Add vegetables to pot roast, uncover and bake about 20 minutes longer or until beef is fork-tender and peppers are tender.

7. Transfer roast to a cutting board, tent with foil and let rest for 10 minutes. Season sauce to taste with salt and pepper. Slice roast across the grain and serve with sauce and vegetables.
SHARE