Chiffon Cake with Margarita Glaze & Fresh Fruit
Début de l'été 2011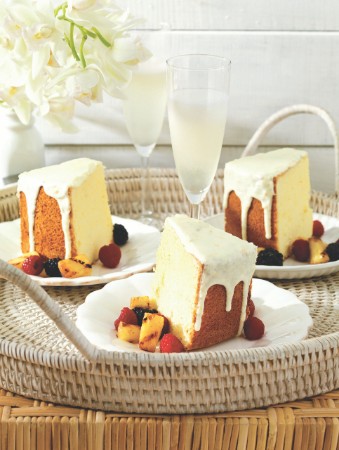 Chiffon Cake with Margarita Glaze & Fresh Fruit
Début de l'été 2011
BY: Marilyn Bentz-Crowley
This extremely light cake could also be called suspended cake as, while hot from the oven, it must be immediately turned upside down and then left to cool before being loosened. The cake freezes very well—ice after defrosting.
CAKE
1 to 2 large limes
1 to 2 large oranges
1 tsp (5 mL) pure vanilla extract
1¾ cups (425 mL) cake and pastry flour (spoon into measure and level with a knife)
1½ cups (375 mL) granulated sugar, divided
1 tbsp (15 mL) baking powder
1 tsp (5 mL) salt
6 egg yolks
½ cup (125 mL) canola or other neutral-tasting
vegetable oil
7 egg whites
½ tsp (2 mL) cream of tartar

GLAZE
¼ cup (50 mL) unsalted butter, softened
2 tbsp (25 mL) tequila
2 tbsp (25 mL) orange liqueur such as triple sec
1 tbsp (15 mL) freshly squeezed lime juice
½ tsp (2 mL) each of lime and orange zests
2 cups (500 mL) icing sugar (sift before measuring)

FRUIT
1 peeled and cored fresh pineapple
2 tbsp (25 mL) orange liqueur
2 tbsp (25 mL) tequila
6 oz (175 g) container raspberries
6 oz (175 g) container blackberries
1 Finely grate limes, then oranges on a rasp grater. Measure out 1½ tsp (7 mL) of each zest; set remainder aside to use in glaze. Squeeze 3tbsp (45 mL) lime juice; add to a glass measuring cup. Squeeze oranges and add enough to lime juice to bring measure up to a total of ¾ cup (175 mL) of combined juices. Stir in measured zest and vanilla.

2 Preheat oven to 350°F (180°C). Do not grease a 10-inch (25-cm) tube pan (plain- sided angel food pan, not a fluted Bundt pan—and especially not nonstick).

3 Stir flour with ¾ cup (175 mL) sugar, baking powder, and salt. Stir yolks into oil.

4 Beat egg whites until foamy; beat in cream of tartar. When soft peaks form, gradually beat in remaining ¾ cup (175 mL) sugar until glossy stiff peaks form. A bit of whipped egg rubbed between fingers feels smooth, not gritty.

5 Add juice and oil mixtures to flour mixture; use a whisk to stir until well-combined without lumps. Fold whites into batter until no big clumps of white remain, yet batter is still streaked.

6 Turn into tube pan; smooth top. Bake 1 hour or until a cake tester inserted into cake centre comes out clean.

7 Immediately invert hot cake while still in pan onto a funnel to hold it upside down during cooling (some pans have peg-legs to accomplish the same thing). When completely cool, about 1½ hours, pressing against pan, not cake, slowly run a thin-bladed knife around pan perimeter. Use a cake tester to loosen cake from tube. Bang against counter a few times to loosen cake bottom; then turn out, upside down on serving plate. (Well wrapped, cake can be frozen. Defrost with wrapping intact; then ice.)

8 For glaze, stir butter with tequila, liqueur, juice and zests. Stir in icing sugar; a medium thick glaze is the desired consistency. Spoon over top of cake using back of spoon to smooth the top; then encourage drips to decoratively flow down sides of cake. Let glaze set at room temperature at least an hour before covering, preferably with a cake dome. Cake keeps well at room temperature for up to 2 days.

9 Cut pineapple lengthwise into 16 long spears; lay on a broiling rack set on a tray. Stir orange liqueur with tequila; brush pineapple lightly. Grill or broil until browned bits form, from 8 to 10 minutes. Turn and grill other side for 5 to 7 minutes or until lightly browned.Place in a shallow dish and brush with remaining mixture.

10 Cut pineapple into chunks. Serve cake slices with cooled pineapple, raspberries, and blackberries.
SHARE