Chicory Salad with Pear, Toasted Walnut and Maple Vinaigrette
Printemps 2006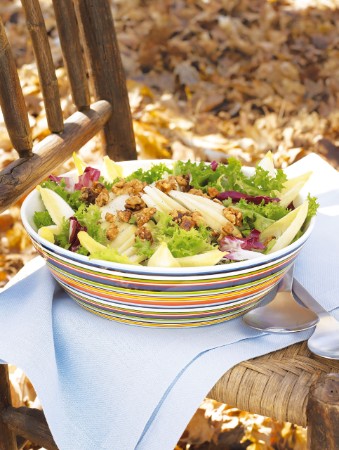 Chicory Salad with Pear, Toasted Walnut and Maple Vinaigrette
Printemps 2006
BY: Marilyn Bentz-Crowley
The slight sweetness of the maple syrup and earthiness of the walnuts contribute to the uniqueness of this salad.
½ cup (125 mL) walnuts
3 tbsp (45 mL) cider vinegar
3 tbsp (45 mL) olive oil
1 tbsp (15 mL) maple syrup
¼ tsp (1 mL) salt
Pinch freshly ground black pepper
1 crisp ripe pear
12 cups (3 L) torn mixed chicory, such as curly endive,
Belgium endive and radicchio
1. Preheat oven to 350ºF (180ºC).

2. Coarsely chop walnuts; spread on a baking sheet. Bake 5 minutes. Stir. Continue baking another 3 to 5 minutes or until walnuts are lightly browned and fragrant. Cool.

3. To make vinaigrette, whisk vinegar with olive oil, maple syrup, salt and pepper.

4. Core and slice pear. Place chicory and pear in a large salad bowl. Toss with vinaigrette until leaves are shiny. Scatter with walnuts; serve right away.

Make-Ahead Tip
Toast walnuts and store airtight in the refrigerator for a week or more. Make vinaigrette and store in the refrigerator for 2 to 3 days. Bring to room temperature and whisk again before tossing salad. Wash chicory and spin dry. Wrap in a paper towel and place in a plastic bag. Store in refrigerator for 2 to 3 days.


SHARE