Chickpea & Paneer Basmati Bowl
Hiver 2014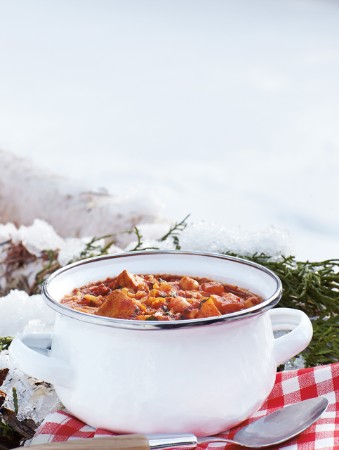 Chickpea & Paneer Basmati Bowl
Hiver 2014
BY: Emily Richards
Enjoying your meal in a Thermos® means you need to include everything in one dish, and this flavourful, one-pot curry is just the ticket. Cooking the basmati rice right in it allows it to absorb the delicious taste and means you won't have to pack rice separately. This hearty and protein-packed vegetarian dish will certainly keep you warm and ready for any outing you have planned.
2 tbsp (30 mL) canola oil
1 large sweet onion, chopped
4 cloves garlic, minced
2 tbsp (30 mL) minced fresh ginger
2 tbsp (30 mL) mild curry paste or powder
2 tsp (10 mL) garam masala
1½ tsp (7 mL) ground cumin
¼ tsp (1 mL) each ground cloves and cinnamon
Pinch cayenne pepper (optional)
4 cups (1 L) low-sodium vegetable broth
1 can (796 mL) crushed tomatoes
1 pkg (375 mL) paneer, chopped (see TIP)
1 can (540 mL) chickpeas, drained and rinsed
1 large yellow pepper, chopped
½ cup (125 mL) basmati rice
2 tbsp (30 mL) each chopped fresh mint and coriander
1 Heat oil in a large shallow saucepan and cook onion, garlic and ginger, stirring for 3 minutes. Stir in curry paste, garam masala, cumin, cloves, cinnamon and cayenne; cook for 1 minute or until fragrant.

2 Stir in broth, tomatoes and paneer; bring to a boil. Reduce heat and simmer for 15 minutes.

3 Stir in chickpeas, pepper and basmati and cook, stirring often, for about 15 minutes or until basmati is tender. Stir in mint and coriander to serve.

TIP Look for paneer in packaged cheese sections of grocery stores or in speciality food stores. It is a fresh, non-melting cheese used in South Asian cuisines. You could substitute fresh farmers' cheese (queso fresco) or extra firm tofu in the recipe.
SHARE