Chicken-Tahini Satay with Spicy Black Sesame Brittle
Hiver 2018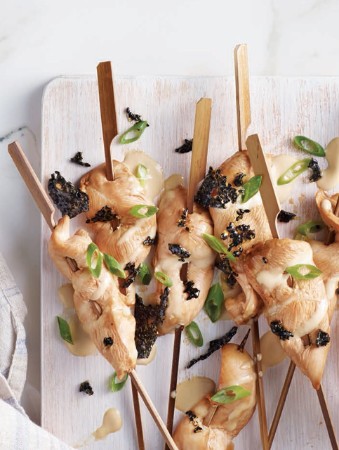 Chicken-Tahini Satay with Spicy Black Sesame Brittle
Hiver 2018
BY: Amy Rosen
Tahini is similar to peanut butter in that it's a nutty-tasting savoury base for a delicious sauce. And that's what we did with this Asian-inspired chicken satay appetizer. To add some crunch and—let's face it—drama, we also made a sweet and spicy black sesame crumble to up the wow factor.
CHICKEN
¼ cup (60 mL) soy sauce
2 tbsp (30 mL) rice vinegar
4 boneless, skinless chicken breasts, about
6 oz (175 g) each, 1½ lbs (750 g) in total, each breast cut into 4 long even strips

SESAME BRITTLE
¾ cup (175 mL) sugar
1 tbsp (15 mL) water
½ cup (125 mL) toasted black sesame seeds (available at Asian grocers)
½ tsp (2 mL) red pepper flakes
Pinch of sea salt

SATAY SAUCE
¼ cup (60 mL) tahini, well stirred
2 tsp (10 mL) soy sauce
2 tsp (10 mL) rice vinegar
¼ cup (60 mL) warm water
16 wooden or bamboo skewers, soaked for 1 hour
2 green onions, thinly sliced
1. In a medium bowl, stir together soy sauce and rice vinegar. Add chicken and marinate for 30 minutes.

2. To make sesame brittle, line a baking sheet with parchment paper. Combine sugar and water in a small saucepan over medium heat. Cook until it comes to a steady boil, stirring carefully and constantly with a wooden spoon until it turns golden (just over 300°F/150°C on a candy thermometer). Remove from heat and immediately stir in toasted black sesames, red pepper flakes and salt, then very carefully pour onto the prepared baking sheet, spreading it out evenly with the back of the wooden spoon. Cool for 20 minutes, then break into small shards. Put some shards in a Ziploc bag and gently pound with a rolling pin to make finer shards. The rest can be stored in an airtight container for up to 2 weeks. (Though it's a tasty treat, so likely won't last the night.)

3. For satay sauce, in a small bowl, combine tahini, soy sauce, rice vinegar and water. Stir together until smooth. Set aside.

4. Skewer marinated chicken onto soaked skewers (1 strip per skewer), through the length of the pieces. Broil chicken in the top third of the oven for 2 to 3 minutes each side, or until juices run clear. May also be barbecued on medium-high heat if desired.

5. Lay out cooked chicken skewers on a platter and drizzle with satay sauce. Sprinkle with a handful of black sesame brittle and sliced green onion. Serve at once.
SHARE