Chicken, Raisin & Almond B'stilla
Temps des Fêtes 2017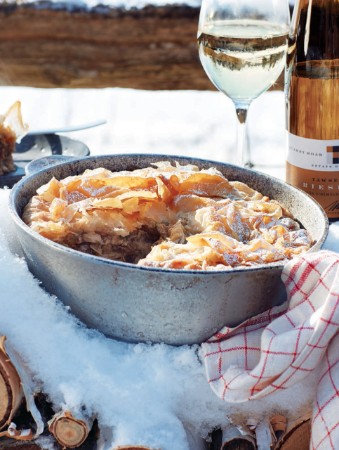 Chicken, Raisin & Almond B'stilla
Temps des Fêtes 2017
BY: Tonia Wilson-Vuksanovic
This is an extravagant dish to come home to, but in reality it is very easy to make. You can choose to make the recipe in its entirety and then reheat it—or make the chicken filling up to 2 days in advance and then bake it in the pastry just before serving. Serve with a fresh salad studded with pomegranate seeds and feta for a luxurious ready-made meal.
1¼ cups (310 mL) chicken stock or water
¼ tsp (1 mL) saffron threads
¼ cup (60 mL) plus ⅓ cup (80 mL) unsalted butter
4 chicken breasts, bone-in and skin on, 2½ lbs (1.25 kg)
2½ cups (625 mL) white onion, finely diced
1 tbsp (15 mL) fresh ginger, peeled and finely chopped
2 tsp (10 mL) ground cinnamon
1 tsp (5 mL) ground cumin
½ tsp (2 mL) ground nutmeg
¼ tsp (1 mL) red pepper flakes
¼ tsp (1 mL) ground cloves (optional)
¼ cup (60 mL) sultana raisins
⅓ cup (80 mL) slivered almonds, toasted
½ cup (125 mL) fresh cilantro, coarsely chopped
2 large eggs, lightly beaten
¼ tsp (1 mL) salt
6 sheets phyllo pastry, thawed
2 tsp (10 mL) icing sugar for dusting
1. Heat oven to 350°F (180°C).

2. In a small saucepan, bring stock to a light boil, immediately remove from heat and add saffron. Set aside for 10 minutes to steep.

3. In a large pot over medium-high heat, melt ¼ cup (60 mL) butter, add chicken breasts and cook until golden, about 3 minutes each side. Do not burn butter. Remove breasts and set aside (they will not be cooked through).

4. Add onions and ginger to the pot, cook for 10 minutes or until onions are translucent. Add cinnamon, cumin, nutmeg, red pepper flakes and cloves. Cook for 1 minute.

5. Return chicken to the pot along with saffron-infused stock. Cover and simmer until chicken is cooked through, about 20 minutes. Remove from heat.

6. Remove chicken from pot. When it's cool enough to handle, shred meat and discard skin and bones.

7. Stir the shredded chicken into the slightly cooled cooking liquid along with sultana raisins, almonds, cilantro, eggs and salt. Refrigerate mixture until ready to use.

8. Melt remaining ⅓ cup (80 mL) butter. Lay 1 sheet of phyllo pastry on a clean work surface, brush completely with melted butter. Lay second sheet across the first to form an addition (plus) sign. Brush the second sheet with melted butter.

9. Lay third sheet diagonally across the first 2, brush with butter. Fourth lies diagonally in the other direction, brush with butter. The last 2 sheets repeat step 1, forming another addition sign on top (remembering to butter each sheet). The 6 sheets should look like a flower and be in a circular shape.

10. Using the melted butter, brush the inside of a 9-inch (23-cm) metal cake tin or springform pan. Gently place the phyllo pastry over the centre of the pan, carefully place the chicken mixture in the middle of phyllo pastry and nudge chicken and phyllo down into the pan. Fold phyllo edges over to cover chicken and brush top with melted butter.

11. Bake for 45 minutes on middle rack, or until pastry is golden and inside is hot.

12. Let rest for 5 minutes before dusting with icing sugar and serving.
SHARE