Chicken, Leek and Lemon Pie
Automne 2003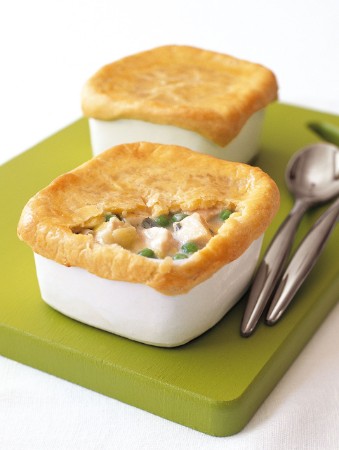 Chicken, Leek and Lemon Pie
Automne 2003
BY: Lucy Waverman
The best chicken pie ever! Lemon and tarragon give the sauce lots of flavour and grilling the breasts creates a superior taste.
2 tbsp (25 mL) olive oil
2 tbsp (25 mL) lemon juice
1 1/2 lbs (750 g) boneless, skinless chicken breasts
Salt and freshly ground pepper

Filling:
12 cloves of garlic, unpeeled
3 leeks
1/4 cup (50 mL) butter
1/4 cup (50 mL) flour
2 cups (500 mL) chicken stock
1 tbsp (15 mL) chopped fresh tarragon or 1 tsp (5 mL) dry
2 tbsp (25 mL) lemon juice
1 tsp (5 mL) grated lemon rind
1/4 cup (50 mL) whipping cream
Salt and freshly ground pepper
3/4 cup (175 mL) green peas, defrosted if frozen
1 No Fail Pastry (recipe below)
1 egg, beaten with a pinch of salt
1. Combine oil and lemon juice. Toss with chicken breasts. Season with salt and pepper.
2. Preheat broiler or use grill pan. Broil breasts 5 minutes per side or until still slightly pink in centre. Cool. Cut into 1 1/2-inch (4-cm) dice and reserve.
3. Preheat oven to 375°F (190°C).
4. Place garlic in cold water, bring to boil and boil for 5 minutes. Drain and peel garlic. Reserve.
5. Cut dark green leaves from leeks and discard. Wash leeks well and slice into 1/2-inch (1-cm) sections.
6. Heat butter in skillet on medium heat. Add leeks and garlic and sauté for about 3 minutes or until leeks soften. Stir in flour and cook until pale gold, about 4 minutes, adding more butter if needed. Stir in chicken stock, tarragon, lemon juice and rind. Bring to boil. Add cream, reduce heat and simmer for 5 minutes or until thick and glossy. Season well with salt and pepper.
7. Stir in green peas and chicken. Place in a 6-cup (1.5-L) baking dish or individual baking dishes. Roll out pastry 1/4-inch (5-mm) thick to cover top of dish. Cut a 1-inch (2.5-cm) strip from edges of pastry. Brush edges of dish with water and lay strip around edges. Brush with egg. Lay remaining pastry on top, sealing edges. Cut a steam hole, decorate with any extra pastry cut in shapes, if desired. Brush with egg.
8. Bake pie on middle shelf of oven for 30 to 35 minutes or until pastry is golden and mixture bubbles.

No Fail Pastry

3 cups (750 mL) all-purpose flour
1 1/2 tsp (7 mL) salt
1/2 cup (125 mL) cold unsalted butter, cut in 8 pieces
1/2 cup (125 mL) cold vegetable shortening, cut in 8 pieces
1/3 cup (75 mL) cold water
2 tbsp (25 mL) white vinegar
1. In a bowl, combine flour and salt.  With a pastry blender or fingers, cut in butter and vegetable shortening until mixture resembles bread crumbs.
2. Combine water and vinegar and sprinkle over flour mixture a little at a time tossing together with a fork until the pastry is moist enough to hold its shape when a little piece is pressed between the fingers.
3. Gather pastry into a ball - it should not feel sticky.
4. Flour the counter or pastry board lightly. With a floured rolling pin, roll the pastry out into a rectangle approximately 8 x 12-inches (20 x 30-cm). Fold the pastry into thirds like a letter. Turn the dough so the open edges face you and roll out into a rectangle again. Repeat this procedure again. Cover dough with plastic wrap and chill one hour.
5. For smaller pies, use half the dough, larger ones need two thirds or all of it. Freeze any remaining dough for another occasion. Dough should be rolled out 1/4-inch (5-mm) thick.
SHARE