Chicken, Bacon Avocado, Herb Mayonnaise and Iceberg Lettuce
Spring 2005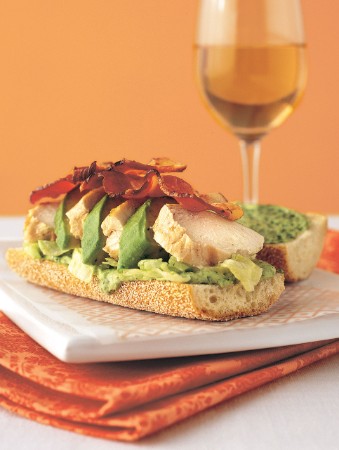 Chicken, Bacon Avocado, Herb Mayonnaise and Iceberg Lettuce
Spring 2005
BY: Lucy Waverman
A kind of Cobb salad on bread. The green herb mayonnaise is superb on the sandwich but also as a dip or a condiment with salmon or chicken. Grilled chicken has the most flavour, but you could use leftover or poached chicken too.
2 tbsp (25 mL) olive oil
1 tbsp (15 mL) Dijon mustard
2 skinless, boneless chicken breasts
Salt and freshly ground pepper
8 slices bacon

Green Herb Mayonnaise
2 tbsp (25 mL) chopped basil
2 tbsp (25 mL) chopped mint
2 tbsp (25 mL) chopped Italian parsley
¼ cup (50 mL) chopped green onions
1 cup (250 mL) baby spinach
1 tbsp (15 mL) lemon juice
2 avocados, peeled
½ cup (125 mL) mayonnaise
Salt and freshly ground pepper
1 baguette
2 cups (500 mL) shredded iceberg
1. Combine olive oil and mustard and rub onto chicken breasts. Season chicken with salt and pepper and grill for 8 minutes or until cooked through. Set aside to cool.

2. Fry bacon slices until crisp in a skillet, on medium-low heat. Dry on paper towels.

3. Combine basil, mint, parsley, green onions, spinach, lemon juice, one avocado and mayonnaise in a food processor to make herb mayonnaise. Season well with salt and pepper. There will be herb mayonnaise left over. When storing, press plastic wrap into the surface of remainder to keep it from discolouring.

4. Thickly slice chicken breasts. Peel and slice remaining avocado.

5. Cut baguette into four lengths, and then slice each section in half, lengthwise. Toast bread if desired. Spread herb mayonnaise on both sides of each baguette. Cover bottom side with iceberg lettuce, chicken, avocado and 2 slices of bacon. Press other half down firmly on top.
SHARE