Chicken with Walnuts and Pomegranates
Holiday 2014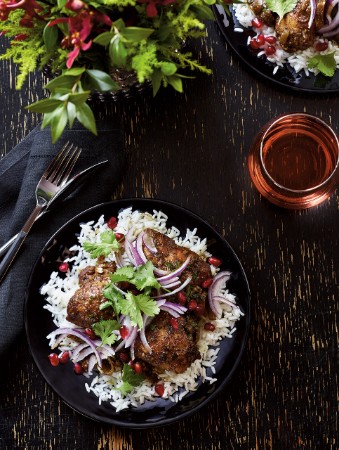 Chicken with Walnuts and Pomegranates
Holiday 2014
BY: Lucy Waverman
This traditional Persian dish is updated by using juicy chicken thighs instead of a whole chicken. The sauce is very dark because of the walnuts and it is lightened by the pomegranate seed garnish and the strips of red onion. Serve with rice.
1 cup (250 mL) walnut pieces
2 tbsp (30 mL) butter
1 tbsp (15 mL) vegetable oil
2 lbs (1 kg) boneless, skinless chicken thighs, (about 12 thighs)
Salt and freshly ground pepper
1 large onion, thinly sliced, about
3 cups (750 mL), sliced
1 tsp (5 mL) ground cardamom
1 tsp (5 mL) turmeric
½ tsp (2 mL) cinnamon
3 cups (750 mL) chicken stock or water
½ cup (125 mL) pomegranate molasses (see recipe below)
½ cup (125 mL) coarsely chopped parsley
½ cup (125 mL) coarsely chopped cilantro

GARNISH
½ red onion, thinly sliced
½ cup (125 mL) pomegranate seeds
¼ cup (60 mL) cilantro sprigs
1 Preheat oven to 400°F (200°C).

2 Place walnuts in a dry pan over medium heat and stir around until lightly toasted, about 5 minutes. Place in food processor and pulse until ground.

3 Heat butter and oil in an ovenproof skillet over medium-high heat. Season chicken with salt and pepper. Sear in batches until browned on both sides, about 2 minutes a side. Do not crowd pan. Remove chicken to a plate and reserve.

4 Reduce heat to medium and return pan to heat. Add onions and sauté until softened, about 4 minutes. Stir in cardamom, turmeric and cinnamon and cook for 1 minute or until fragrant. Add walnuts, chicken stock and pomegranate molasses. Season with salt and pepper. Return chicken and bring to a boil. Remove from heat and transfer to oven.

5 Bake, covered, for 15 minutes or until chicken juice runs clear. Remove from oven and transfer chicken to a plate. Return pan to stovetop and bring sauce to a boil. Reduce heat and simmer until sauce is thick enough to coat the back of a spoon, about 5 minutes. Remove from heat and stir in parsley and cilantro.Return chicken to pan with sauce and reheat if necessary.

6 Garnish with thinly sliced red onion, pomegranate seeds and cilantro sprigs.

HOW TO MAKE POMEGRANATE MOLASSES
Place 4 cups (1 L) pomegranate juice, 1/3 cup (80 mL) sugar and 1 tbsp (15 mL) lemon juice in a heavy pot and bring to
boil, stirring. Once sugar is completely dissolved, turn heat to medium-low and simmer until juice has thickened and reduced to ¾ cup (175 mL), 45 minutes to 1 hour. It should be the consistency of thick syrup. It thickens further as it cools.
Makes about ¾ cup (175 mL)
SHARE