Chicken with Morels and Sage
Autumn 2007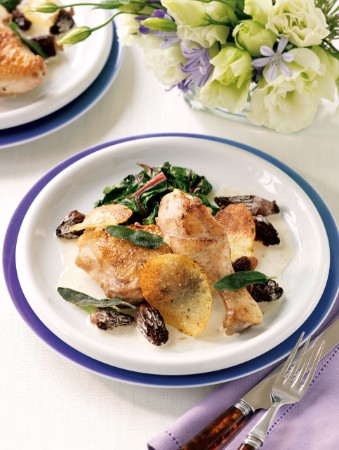 Chicken with Morels and Sage
Autumn 2007
BY: Lucy Waverman
Morels are mushrooms with fabulous flavour. Available in the spring and fall, they give an earthiness to the dishes that they are in. Sometimes they are hard to find but morels dry very well, so dried ones make an excellent substitute. Pour over hot water and leave for 20 minutes before using. This is a rich dish perfect for entertaining. Prepare ahead of time up to the point of baking and bake when needed.
Chicken
1 chicken, cut into 8 pieces
Salt and freshly ground pepper
¼ cup (50 mL) butter
4 oz (125 g) fresh morels or 1 oz (30 g) dried
½ cup (125 mL) white wine
½ cup (125 mL) whipping cream


Fried Sage Leaves
2 tbsp (25 mL) vegetable oil
12 sage leaves
1. Preheat oven to 400°F (200°C).

2. Season chicken with salt and pepper.

3. Heat 2 tbsp (25 mL) butter in a skillet over medium heat until butter is sizzling. Working in batches, add chicken, skin-side down and brown on both sides, about 3 minutes per side. Add more butter as needed. Place chicken in an ovenproof casserole. Drain fat from skillet leaving 1 tbsp (15 mL) for morels.

4. Add morels to skillet, season with salt and pepper and sauté for 2 minutes or until softened. Add to casserole. Pour wine into skillet and bring to boil and boil for 1 minute. Add cream and return to boil. Boil for 2 minutes or until sauce is reduced slightly.

5. Pour sauce over chicken and bake uncovered for 30 to 40 minutes or until chicken is cooked and juices are clear. If sauce is too thin, return to skillet and reduce further.

6. Heat oil in a skillet over medium heat. Add sage leaves and fry for 30 seconds or until crisp. Remove immediately and drain on paper towels.

7. Garnish chicken with fried sage leaves and Potato Crisps (recipe follows).

Potato Crisps

These are a great garnish for most dishes. They can be made ahead of time and reheated in a 350°F (180°C) oven for 2 or 3 minutes.


2 Yukon Gold potatoes, peeled
2 tbsp (25 mL) olive oil
Salt and freshly ground pepper
1.  Preheat oven to 350°F (180°C).

2.  Line a baking sheet with parchment paper.

3.  Thinly slice potatoes and toss with oil. Season with salt and pepper. Place potato slices on prepared baking sheet. Cover with a second sheet of parchment paper and place a second baking sheet on top to weigh down the slices.

4.  Bake for 25 to 30 minutes or until slices are golden. Reheat when needed.
SHARE