Chicken with Dates
Hiver 2006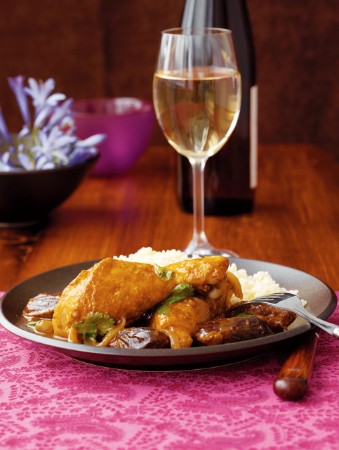 Chicken with Dates
Hiver 2006
BY: Jennifer McLagan
This dish evokes the cuisine of the Middle East where dates are often matched with meat and poultry. The dates will make this dish sweet but you can adjust it to your taste with lemon juice
One 3 pound (1.5 kg) chicken, cut into 8 pieces
Salt and freshly ground pepper
2 tbsp (25 mL) canola oil
1 large red onion, peeled and sliced
1 tsp (5 mL) ground ginger
1 tsp (5 mL) ground cinnamon
½ tsp (2 mL) ground cumin
1 cup (250 mL) chicken stock
1 cup (250 mL) carrot juice
½ lb (250 g) medjool dates (about 10), pitted and halved
2 tbsp (25 mL) freshly squeezed lemon juice
1 cup (250 mL) fresh coriander leaves, chopped
1. Pat dry the chicken and season with salt and pepper. In a large frying pan with a lid, heat the oil over medium heat, brown the chicken pieces well on both sides, transfer to a dish. Pour out all but 1 tbsp (15 mL) of the fat.

2. Add the onions and cook stirring until softened slightly. Add the ginger, cinnamon and cumin, stirring into the onions. Pour in the stock and carrot juice and bring to a boil.

3. Return the chicken to the pan and then lower the heat, cover and simmer for 15 minutes. Uncover the pan, turn the chicken pieces, add the dates and continue to cook uncovered for another 20 minutes or until the chicken is cooked through.

4. Remove the cooked chicken from the pan and keep warm. Skim off any fat from the sauce, boil to reduce slightly, if desired. Check seasoning; add the lemon juice, return the chicken to the pan and sprinkle with the chopped coriander. Serve with couscous or rice.
SHARE