Chicken with Browned Onions and Dates
Holiday 2017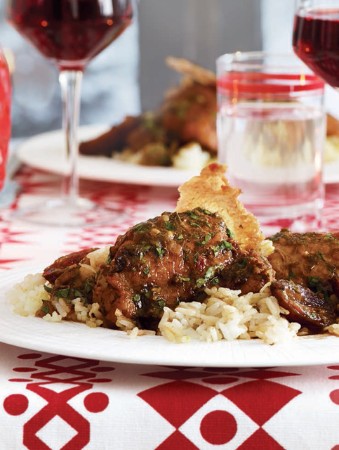 Chicken with Browned Onions and Dates
Holiday 2017
BY: Lucy Waverman
I like to use chicken thighs with the bone in for maximum flavour. However, I do remove the skin (and save it for the crisp skin garnish) to make sure that the spices are infused in the chicken meat. Use boneless thighs as well but cook for 10 minutes less. For people who prefer boneless, skinless breast meat, cut each breast into 2 pieces and cook 10 minutes less time than with bone-in thighs. The cinnamon and dates balance out the heat of the spices and the separate crispy chicken skin offsets the softness of this dish. Serve with saffron rice.
SPICE MIXTURE
1 tbsp (15 mL) chopped garlic
2 tsp (10 mL) ground ginger
2 tsp (10 mL) ground cumin
2 tsp (10 mL) smoked sweet paprika
½ tsp (2 mL) crushed red pepper flakes (or to taste)
½ tsp (2 mL) cinnamon
1 tbsp (15 mL) olive oil

CHICKEN
12 bone-in chicken thighs, about 3 lbs (1.5 kg)
Salt to taste
2 tbsp (30 mL) olive oil
3 cups (750 mL) sliced onions
¼ cup (60 mL) chopped parsley
¼ cup (60 mL) chopped fresh coriander
1 tbsp (15 mL) honey
2 cups (500 mL) chicken stock or water
1 tbsp (15 mL) lemon juice
12 pitted dates, cut in half, about ⅔ cup (150 mL)
1. Preheat oven to 375°F (190°C). Line a baking sheet with parchment paper.

2. Combine garlic, ginger, cumin, paprika, red pepper flakes and cinnamon together in a small bowl. Mix 2 tbsp (30 mL) of spice mixture with 1 tbsp (15 mL) olive oil. Reserve.

3. Remove chicken skin from thighs and set aside. Arrange chicken skin on prepared baking sheet in a single layer. Top skin with another piece of parchment paper and another baking sheet. Bake skin until crisp and golden, about 25 minutes. Remove to a paper-towel-lined plate and sprinkle with salt while hot.

4. Heat 2 tbsp (30 mL) oil in a large skillet over medium-high heat. Working in batches, add chicken pieces and sauté for 3 minutes per side or until golden. Remove chicken thighs to a dish and coat with spice-and-oil mixture. Reserve.

5. Add onions and a pinch of salt to pan and sauté for 3 minutes or until softened. Reduce heat to medium, add remaining spice mixture and continue to cook for about 8 to 10 minutes, stirring occasionally, or until onions are golden and very soft.

6. Add parsley, coriander and honey and stir together. Add stock and lemon juice and bring to a boil. Reduce heat to medium-low and return chicken to pan. Cover and simmer 20 minutes. Add dates and cook for 5 minutes longer or until chicken is cooked through. Crumble chicken skin and sprinkle over chicken, or serve whole as garnish.
Serves 6; spice mixture yields ¼ cup (60 mL)
SHARE