Chicken on a Bed of Sauteed Leeks and Sweet Potatoes
Autumn 2006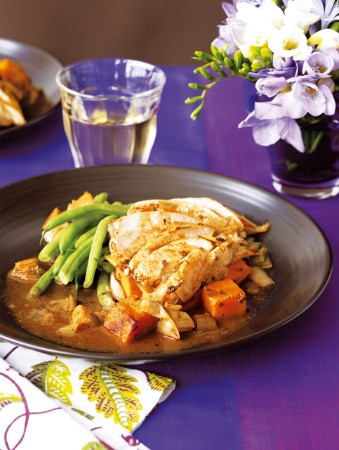 Chicken on a Bed of Sauteed Leeks and Sweet Potatoes
Autumn 2006
BY: Lucy Waverman
An all-in-one main course with the chicken baking on top of the vegetables. If you want a green vegetable with it, use French green or runner beans.
2 tbsp (25 mL) olive oil
2 tsp (10 mL) chopped fresh thyme
2 tbsp (25 mL) Dijon mustard
2 tsp (10 mL) grated lemon rind
2 tsp (10 mL) paprika
4 boneless, skinless chicken breasts
Salt and freshly ground pepper
2 sweet potatoes, cut into 1-inch (2.5-cm) cubes
2 leeks, white and light green part only, sliced
1 cup (250 mL) chicken stock
2 tbsp (25 mL) balsamic vinegar
1. Preheat oven to 400°F (200°C).

2. Combine 1 tbsp (15 mL) olive oil, thyme, mustard, lemon rind and paprika. Reserve 1 tbsp (15 mL) of mixture, and brush the rest over chicken breasts. Season with salt and pepper.

3. Heat remaining 1 tbsp (15 mL) oil in a large ovenproof skillet over medium heat. Add chicken breasts and cook 2 minutes per side or until browned. Remove from skillet and toss in sweet potatoes. Saute for 1 minute, add leeks and saute for 2 minutes. Add stock, reserved mustard mixture and balsamic vinegar and bring to boil. Reduce heat, return chicken breasts and place over vegetables. Cover skillet.

4. Place in oven and bake for 15 to 20 minutes or until chicken juices run clear. Slice chicken breasts and serve over vegetables. Drizzle over pan liquid.
SHARE