Chicken en Cocotte
Holiday 2018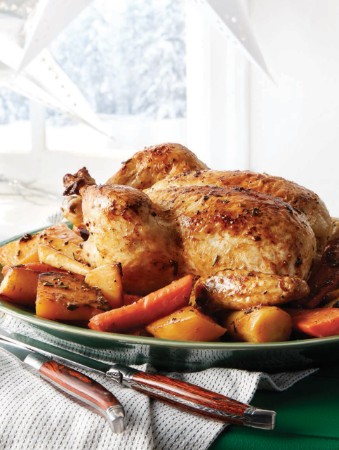 Chicken en Cocotte
Holiday 2018
BY: Lucy Waverman
Chicken becomes golden and moist when cooked by this method. Use a cocotte (a heavy stove-to-oven-to-table casserole). If you don't have a cocotte, brown in a skillet and transfer to a covered baking dish. This method usually takes 5 to 10 minutes longer in the oven. Serve with mashed potatoes and a green vegetable. If you don't like our vegetable combination, use whatever roots you like. White turnip, Jerusalem artichokes and cipollini onions are another successful combination. Just make sure they are cut into similarly sized pieces to ensure even cooking.
1 lb (455 g) rutabaga, about ½ large
½ lb (225 g) parsnip, about 3 medium
½ lb (225 g) carrots, about 6 medium
3½ lb (1.6 kg) whole chicken
Salt and freshly ground pepper
1 tbsp (15 mL) butter
1 cup (250 mL) chicken stock
1 tbsp (15 mL) chopped fresh rosemary or 1 tsp (5 mL) dried
1 tbsp (15 mL) soy sauce
1. Preheat oven to 400°F (200°C).

2. Peel vegetables and cut into pieces or sticks 1 x 2 inches (2.5 x 5 cm).

3. Season chicken with salt and pepper. Heat butter in a Dutch oven or ovenproof casserole over medium heat. Brown chicken breast-side down until golden, about 3 minutes. Turn on its side and brown another 3 minutes. Repeat with remaining 2 sides. Remove chicken to a dish and drain of all but 2 tbsp (30 mL) fat from pan.

4. Add vegetables into casserole and sauté until beginning to brown, about 5 minutes. Add stock, rosemary and soy sauce and bring to boil.

5. Return chicken to pan, breast-side up. Cover and bake for 45 minutes. Uncover and continue to cook until skin is crisp and juices are clear, 10 to 15 minutes longer.

6. Remove chicken from pan to carving board and cover with a tea towel to keep warm. Place vegetables in a serving dish. Skim fat from casserole and bring sauce to boil to combine flavours. Season with salt and pepper to taste. Carve chicken into 4 servings and serve with vegetables and sauce.
SHARE