Chicken and Olive Ragout with Dijon Potatoes
Temps des Fêtes 2005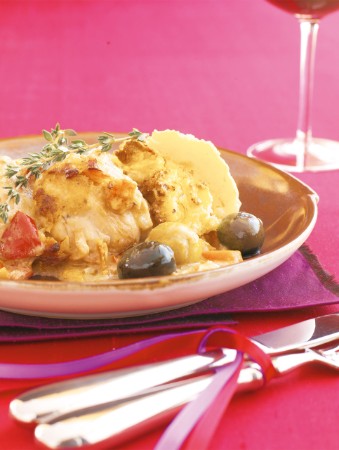 Chicken and Olive Ragout with Dijon Potatoes
Temps des Fêtes 2005
BY: Jennifer MacKenzie
The flavours in this savoury ragout actually benefit from being made ahead. Even if you don't plan to freeze it, make it the day ahead and refrigerate overnight. Follow the reheating instructions for the thawed dish. Chicken thighs stay moist and tender when cooked in a ragout and frozen. If you'd like to substitute chicken breasts, make sure to cook just until no longer pink inside to prevent drying out. Keep in mind that the flavours will intensify after reheating, so season lightly to start.
4 strips bacon, chopped
2 lb (1 kg) boneless skinless chicken thighs, cut into chunks
1 tbsp (15 mL) butter, if necessary
4 carrots, chopped
½ cup (125 mL) minced shallots
4 cloves garlic, minced
1 tsp (5 mL) dried thyme
½ tsp (2 mL) freshly ground pepper
¼ tsp (1 mL) salt
1/3 cup (75 mL) all-purpose flour
2 cups (500 mL) dry white wine
1 cup (250 mL) chicken stock
1 large red pepper, diced
¾ cup (175 mL) mixed black and green olives
1 tbsp (15 mL) Dijon mustard
Chopped fresh parsley and/or thyme, for garnish


Dijon Potatoes
4 lbs (2 kg) oblong or Yukon Gold potatoes
1¼ cups (300 mL) whipping cream, warmed
1 tbsp (15 mL) Dijon mustard
Salt and freshly ground pepper to taste


1. In a large pot, cook bacon over medium-high heat until crisp. Transfer bacon to a paper-towel-lined plate and set aside. Drain off all but 1 tbsp (15 mL) bacon fat from pot, reserving excess fat. Add chicken to pot in batches, and brown on all sides. Transfer to a bowl. Reheat pot and add more reserved bacon fat between batches as necessary. Set chicken aside.

2. Reduce heat to medium-low and add remaining bacon fat or butter. Add carrots, shallots, garlic, thyme, pepper and salt and sauté for about 10 minutes or until soft. Sprinkle with flour and cook, stirring, for 1 minute. Gradually pour in wine and stock, stirring. Bring to boil over medium heat, scraping up any bits on bottom. Boil, stirring often, for 5 minutes or until slightly thickened.

3. Add chicken with any accumulated juices to pot with red pepper, olives and mustard. Reduce heat and simmer, stirring often, for about 20 minutes or until chicken is no longer pink inside and sauce is thickened. Crumble reserved bacon and stir into sauce. Check and adjust seasoning as necessary. Transfer to a shallow heatproof container and let cool slightly. Refrigerate until cold.

4. Meanwhile, prepare the Dijon Potatoes. Peel potatoes and cut into chunks. In a large pot, cover potatoes with cold water and bring to boil. Season water with salt. Reduce heat and simmer for about 20 minutes or until potatoes are fork tender. Drain and return to pot over low heat. Dry potatoes, shaking pot, for 1 minute. Remove from heat and mash potatoes, gradually mashing in cream and mustard. Season with salt and pepper. Spoon potatoes around the edge of a buttered shallow 12 to 16-cup (3 to 4-L) casserole dish, leaving room for chicken in centre and making sure potatoes do not extend above edge of dish. Refrigerate until cold.

5. Spoon cold chicken ragout into centre of potatoes. Cover top of dish with plastic wrap and wrap entire dish in heavy-duty foil. Freeze for up to 2 months. Casserole can be thawed in the refrigerator for 48 hours or reheated from frozen.
6. To reheat, remove plastic wrap and cover dish with foil. If thawed, bake in 350ºF (180ºC) oven for about 1½ hours or until potatoes and chicken are hot. Uncover and bake for about 20 minutes longer or until potatoes are browned and sauce is bubbling. If frozen, bake in 400ºF (200ºC) oven for 1½ to 2 hours or until potatoes are warm. Uncover and bake for 30 to 60 minutes longer or until potatoes are browned, chicken is hot and sauce is bubbling.

7. Let stand for 10 minutes. Sprinkle with herbs before serving.
SHARE