Chicken Wellington with Mushrooms & Spinach
Holiday 2011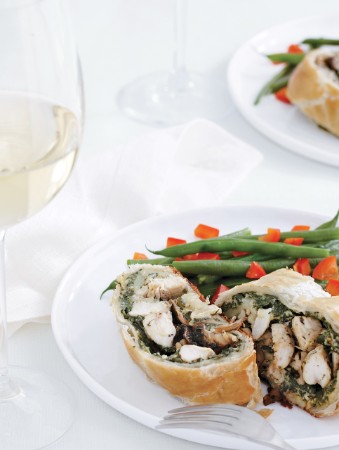 Chicken Wellington with Mushrooms & Spinach
Holiday 2011
BY: Emily Richards
Having friends over is always easier when dinner is ready to go or at least already made ahead. You can make this dish when you have some down time before the holiday rush and then enjoy it later in the hustle and bustle of busy time. This is perfect served up with a sauté of green beans, red pepper and carrots alongside.
8 cups (2 L) packed baby spinach
½ cup (125 mL) water
2 tbsp (30 mL) extra virgin olive oil
2 shallots, finely chopped
4 cloves garlic, minced
¾ cup (175 mL) garlic and herb cheese, such as Boursin
2 tbsp (30 mL) dry bread crumbs
2 cups (500 mL) chopped mushrooms
1½ tsp (7 mL) herbes de Provence
3 boneless skinless chicken breasts, about 12 oz (375 g) total, diced Pinch each salt and pepper
1 pkg (400 g) puff pastry, thawed
1 egg, beaten
1 Bring spinach and water to boil in large nonstick skillet, stirring for about 3 minutes or until wilted. Drain and press out excess water; place in bowl and set aside.

2 Return skillet to medium heat and add half of the oil. Cook shallots and garlic for 3 minutes or until softened. Add spinach and cook for 1 minute. Return to bowl and add cheese and bread crumbs. Stir until well coated; set aside.

3 Heat remaining oil over medium-high heat in same skillet and cook mushrooms and herbes de Provence for 5 minutes or until liquid starts to appear in skillet. Add chicken and cook, stirring for about 10 minutes or until chicken is no longer pink inside. Season with salt and pepper; set aside.

4 On a floured surface, roll out pastry to a 16 x 12-inch (40 x 30-cm) rectangle; place on large piece of parchment paper. Spread spinach mixture in centre of pastry leaving about 4 inches (10 cm) on long sides and 2 inches (5 cm) on short sides. Top with chicken mixture. Brush edges with egg and fold up short sides over filling, then overlap 1 long side over filling and lift remaining pastry to reach pastry on top, overlapping slightly, and pinch seam to seal. Brush all over with egg and let stand for 5 minutes to dry slightly.

5 Preheat oven to 425°F (220°C).

6 Bake for about 30 minutes or until golden brown and puffed. Let stand 5 minutes before slicing.

Serves 8
Chicken Wellington with Mushrooms & Spinach Make Ahead
Slide unbaked Wellington onto baking sheet and place in freezer for about 3 hours or until frozen. Wrap in parchment and overwrap in plastic wrap and foil; return to freezer and freeze for up to 2 weeks. Unwrap and place on parchment-paper-lined baking sheet. Let thaw in refrigerator overnight.
SHARE