Chicken Tinga Tostadas
Early Summer 2017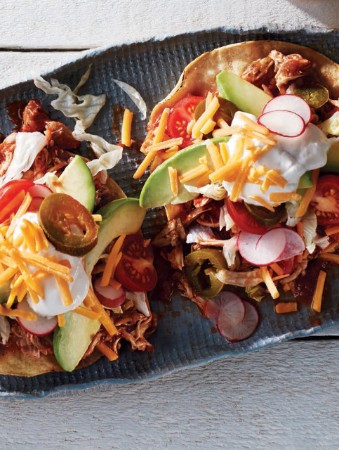 Chicken Tinga Tostadas
Early Summer 2017
BY: Amy Rosen
A crunchy base topped with smoky, zippy chicken and loads of fresh garnishes could make this your new Tuesday night taco fix. A quick and easy sauce is layered with flavour, turning humble chicken thighs into Tinga Tostadas Tuesdays!
4 cups (1 L) chicken stock
2 cloves garlic, chopped
1 red onion, quartered
2 lbs (1 kg) boneless, skinless chicken thighs
1 can (796 mL) diced fire-roasted tomatoes
½ of a 187 mL can chipotle peppers in adobo sauce
½ tsp (2 mL) ground cinnamon
Salt and freshly ground pepper
2 tbsp (30 mL) vegetable oil
8 crunchy corn tostada shells (such as Charras brand)

GARNISH
½ head iceberg lettuce, finely sliced
½ cup (125 mL) cherry tomatoes, halved
1 avocado, pitted, peeled and sliced
¼ cup (60 mL) sour cream
1 cup (250 mL) shredded sharp cheddar
2 tbsp (30 mL) sliced pickled jalapeños
2 tbsp (30 mL) radishes, sliced
1. To a large pot on medium-high heat, add chicken stock, garlic and red onion. Bring to a boil, add chicken thighs, cover and lower to a simmer for 30 minutes. Remove chicken and set aside to cool. Strain the stock and reserve.

2. In a blender, combine fire-roasted tomatoes, chipotle peppers in adobo sauce, cinnamon and 1 cup (250 mL) of the strained chicken stock. Blend until smooth. Season to taste with salt and pepper. (Note: you'll have a few cups of delicious chicken stock left over. Either freeze for future use or refrigerate and enjoy over the next 2 days.)

3. Shred cooled chicken by pulling it apart with 2 forks.

4. Heat oil in large pot over medium heat then add the blender chipotle sauce and shredded chicken. Bring to a boil then reduce to simmer, covered, for 10 minutes. Add salt and pepper to taste.

5. To assemble tostadas, place 2 tostada shells on each dinner plate and spoon on chicken tinga and sauce. Top with lettuce, cherry tomatoes, avocado, sour cream, cheddar, pickled jalapenos and radishes. Eat immediately.
SHARE