Chicken Tikka with Basmati and Raita
Automne 2005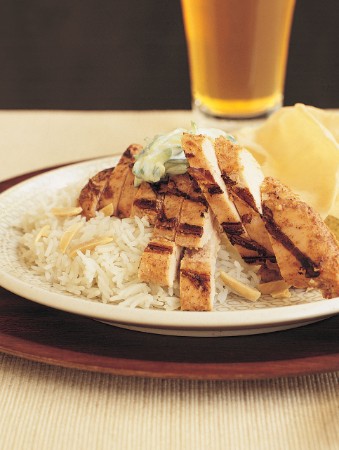 Chicken Tikka with Basmati and Raita
Automne 2005
BY: Marilyn Bentz-Crowley
Here's Indian cookery with flavour, not fire. Masala is a generic word for myriad combinations of aromatic spices that can be made at home or simply purchased at Indian and Asian stores.
Chicken
6 large skinless, boneless chicken breasts or 12 thighs
1 large lemon
1 cup (250 mL) plain unsweetened yogurt
¼ cup (50 mL) finely grated fresh ginger
2 tbsp (25 mL) canola or other vegetable oil
1 large clove garlic, minced
1 tbsp (15 mL) garam masala
1 tbsp (15 mL) tandoori masala
1½ tsp (7 mL) salt
1 tsp (5 mL) cayenne

Raita
1 medium English cucumber
1 tsp (5 mL) salt
1 cup (250 mL) full-fat unsweetened yogurt or light sour cream

Basmati Rice
2 cups (500 mL) basmati rice
1 cup (250 mL) cold water
1 cup (250 mL) coconut milk
½ cup (125 mL) slivered almonds or unsweetened coconut, toasted
½ cup (125 mL) coarsely chopped fresh coriander
1. Turn chicken into a large glass dish or plastic bag. Squeeze juice from lemon. Stir yogurt with lemon juice, ginger, oil, garlic, both masalas, salt and cayenne. Pour over chicken; mix well. Cover and refrigerate for several hours or up to a day.

2. To prepare raita, julienne cucumber on a mandoline or grater. Mix with salt in a sieve or colander; drain for 30 to 60 minutes. Using your hands, squeeze out most of the moisture. Place shreds in a bowl. Stir in yogurt. Cover and refrigerate until needed.

3. About an hour before serving, rinse rice in a sieve under cold running tap water. Turn into large saucepan with measured water and coconut milk. Let stand 30 minutes. Bring to a boil over high heat, stir and reduce heat to low. Cover and cook 15 minutes. Turn off heat. Let stand 15 minutes without lifting cover or until ready to serve. Fluff with a fork. Sprinkle with almonds or coconut and coriander when serving.

4. Meanwhile, preheat barbecue or broiler. Grill chicken using medium to medium-high heat 10 to 15 minutes, turning as needed, or until cooked. Serve diagonally sliced chicken over hot rice with a dollop of raita.
SHARE