Chicken Thigh "Burger"
Summer 2020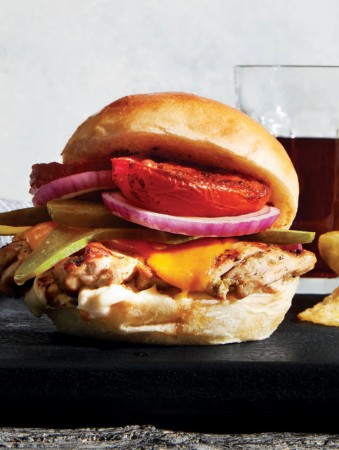 Chicken Thigh "Burger"
Summer 2020
BY: Christopher St. Onge
Your average boneless, skinless chicken thigh is the perfect size to sandwich between burger buns. And they beat, hands down, making your own patties out of sloppy, wet ground chicken. There are two simple components to make, then you dress it all up with your favourite burger fixings. So, what you really have here is a chicken thigh sandwich in a custom-made burger suit.
SMOKY TOMATOES
4 small plum tomatoes
2 tsp (10 mL) apple cider or rice vinegar
1 tsp (5 mL) brown sugar
½ tsp (2 mL) ground cumin
1 tsp (5 mL) ground ancho chili Pinch  cayenne
Salt and freshly ground black pepper
CHICKEN THIGHS
4 boneless, skinless chicken thighs
2 tbsp (30 mL) olive oil
Finely grated zest and juice of 1 lime
2 cloves garlic, finely grated
1 ½ tsp (7 mL) chopped thyme 1 tsp (5 mL) salt
Freshly ground black pepper
TO ASSEMBLE
4 slices medium or smoked cheddar (optional)
4 soft burger buns
Selection of your favourite burger toppings and condiments
1 Turn your grill to medium, close the lid and bring the temperature to 350°F (180°C).
2 Get the smoky tomatoes started by halving the tomatoes length-wise. Add to a bowl along with vinegar, sugar and spices. Season with salt and pepper and place cut-side up on the preheated grill. Close the lid and cook until soft and slightly collapsed, about 20 minutes.
3 Meanwhile, open up the chicken thighs (they're usually folded onto themselves in the package) and place in a medium bowl. Add the oil, lime zest and juice, garlic, thyme and salt. Season with black pepper to taste. Toss to evenly coat.
4 About 10 minutes before the tomatoes are done, add the chicken to the grill and cook for 10 to 12 minutes, turning once halfway through, or until juices run clear. If using cheese, add a slice to each thigh about a minute before removing.
5 Dress your burger buns with your favourite condiments, and assemble sandwiches using 1 chicken thigh and 2 tomato halves per sandwich. Dress with your preferred toppings.
SHARE