Chicken Phyllo Pie with Fresh Peaches and Pesto Cream
Early Summer 2009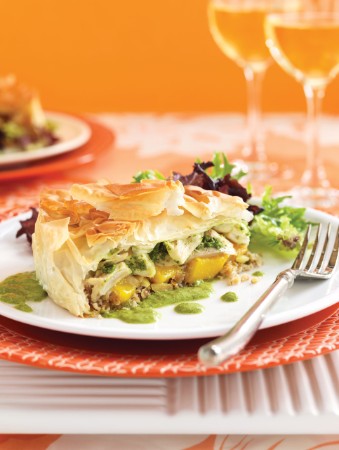 Chicken Phyllo Pie with Fresh Peaches and Pesto Cream
Early Summer 2009
BY: Marilyn Bentz-Crowley
This savoury pie is simple yet sophisticated with layers of ingredients that require little cooking. Slowly defrost phyllo overnight in refrigerator if possible. Divide remaining phyllo into useable portions of four to eight sheets. Wrap in waxed paper. Tightly over-wrap with foil; refreeze until needed again.
Pie
3⁄4 cup (175 mL) chicken broth
1⁄2 cup (125 mL) bulgur
4 sheets phyllo dough
2 to 3 tbsp (25 to 45 mL) butter,melted
1 green onion, thinly sliced
1 large or 2 small peaches, peeled and diced (see TIP below)
1⁄2 cup (125 mL) toasted slivered or sliced almonds
1 1⁄2 to 2 cups (375 to 500 mL) bite-sized cooked chicken pieces
Freshly ground sea salt and pepper
2 tbsp (25 mL) basil pesto

Sauce
1⁄2 cup (125 mL) basil pesto
1⁄2 cup (125 mL) whipping cream
1. Arrange oven rack below oven centre; preheat to 400°F (200°C).

2. Heat broth in 2-cup (500-mL) measure in microwave or in a very small saucepan until boiling. Remove from heat; stir in bulgur. Set aside to soak.

3. Line a 9-inch (23-cm) cake tinfoil turning it upside down to shape foil. Turn upright; fit foil into pan. Lightly brush 1 sheet of dough with butter. Lay in pan in a manner that 1 side overhangs much more than the other. Repeat with remaining sheets, placing at a quarter turn of pan so that the long overhangs circle pan.

4. Spread soaked bulgur in pan. Evenly sprinkle with green onion; then peaches and almonds. Top with chicken. Lightly season chicken with pinches or grindings of sea salt and black pepper. Drizzle chicken with pesto.

5. In turn, pick up and drop overhanging sheets on top of pie. Top is rough. Bake for 25 minutes or until pastry is golden and pie is hot. If top seems too brown before end of baking time, loosely place a piece of foil over top and continue baking.

6. Meanwhile, for sauce, stir pesto with cream. Use foil to lift hot pie out of cake tin. Cut into quarters. Spread1 tbsp (15 mL) of pesto cream on centre of each warm plate. Top with pie. Serve right away with remaining pesto cream. On the side, offer warm pita or cornbread and tossed green salad.

TIP: Fresh peaches brown quite quickly when cut. If making this pie a few hours ahead of baking, in place of fresh peaches use 3⁄4 cup (175 mL) well-drained canned peaches or diced soft dried apricots. Cover pie with plastic wrap and refrigerate until needed. Add 5 minutes to baking time.
SHARE