Chicken Parmigiano Casserole with Fresh Basil
Winter 2001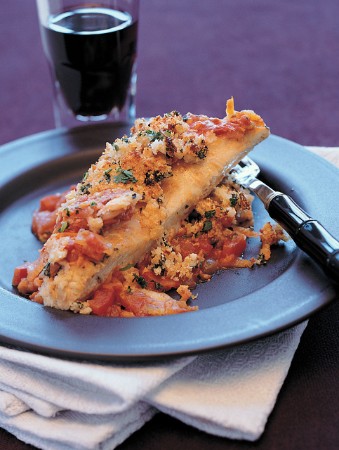 Chicken Parmigiano Casserole with Fresh Basil
Winter 2001
BY: Marilyn Bentz-Crowley
Fresh basil is an inexpensive winter luxury that adds depth of flavour and tantalizing aroma to this layered bake. Serve with a soft mound of thyme-scented polenta or earthy mushroom risotto and the freshest vegetables you can find, simply steamed.
Sauce
1 tbsp (15 mL) olive oil
1 medium onion, diced
2 garlic cloves, minced
1 sweet red pepper, seeded and diced
1 carrot, very finely grated
28 oz (796 mL) can diced tomatoes
1 tsp (5 mL) granulated sugar
2 tbsp (25 mL) finely chopped fresh basil
1/4 tsp (1 mL) freshly ground black pepper


Casserole
8 skinless, boneless chicken breasts
4 to 6 tbsp (60 to 90 mL) olive oil
1/4 cup (50 mL) all-purpose flour
1/2 tsp (2 mL) salt
1 large garlic clove, minced
2 cups (500 mL) fresh Italian or French breadcrumbs
1 cup (250 mL) freshly grated Parmesan cheese, divided
1/4 cup (50 mL) finely chopped fresh basil
8 oz (250 g) mild provolone cheese, sliced or grated
1. To make sauce, heat olive oil in a large pot over medium heat. Add onion and garlic. Sauté 2 or 3 minutes or until fragrant. Add red pepper, carrot and tomatoes, including juice. Bring to boil and reduce heat. Partially cover and simmer 30 minutes. Stir in sugar, basil and black pepper. Sauce can be made ahead and refrigerated for 2 to 3 days.

2. Remove fillets from chicken breasts. Place each piece of chicken, including fillets, between pieces of plastic wrap or inside a heavy plastic bag. Flatten to 1/2-inch (1-cm) thick using a flat mallet or bottom of saucepan. Heat 1 tbsp (15 mL) olive oil in a large frying pan over medium heat. Stir flour with salt. Lightly flour 3 to 4 pieces of chicken at a time. Sauté 3 to 4 minutes on each side or until lightly browned. Chicken may not be fully cooked. Remove and repeat with remaining chicken adding more oil as needed. Spoon some of the tomato sauce into hot frying pan to deglaze. Stir back into sauce in pot.

3. Stir garlic with 2 tbsp (25 mL) olive oil in a small bowl. Add bread crumbs, half of grated Parmesan and chopped basil. Toss crumbs until coated.

4. Preheat oven to 350°F (180°C). Grease a 9 x 13-inch (3-L) baking dish or coat with cooking spray. Spread 1 cup (250 mL) of sauce in bottom. Arrange chicken in a single layer, overlapping pieces as needed. Sprinkle with remaining Parmesan and provolone cheeses. Spoon another cup (250 mL) of sauce over top. Sprinkle evenly with crumbs. You may refrigerate covered casserole and remaining sauce for several hours if making ahead.

5. Bake uncovered in centre of oven for 40 to 45 minutes (10 minutes longer if casserole has been refrigerated) or until bubbly and top is golden brown. Reheat remaining sauce. Place a small amount of sauce on warmed serving place. Top with a portion of casserole. Pass remaining sauce.
SHARE