Chicken Paprika Birds
Autumn 2010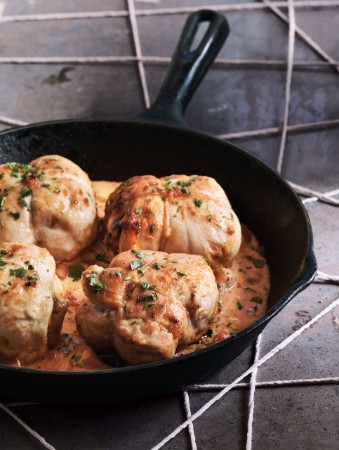 Chicken Paprika Birds
Autumn 2010
BY: Marilyn Bentz-Crowley
This recipe is often made with veal, however chicken is a delicious alternative. Do choose air-dried chicken for these elegant rolls, as they contain far less water and have better flavour.
6 single large skinless, boneless chicken breasts
kitchen twine
2 tbsp (25 mL) butter
1 cup (250 mL) finely chopped onion, divided
3 to 4 large button or cremini mushrooms, finely diced, about 1 cup (250 mL)
1/4 tsp (1 mL) salt
1/4 tsp (1 mL) freshly ground black pepper
2 tbsp (25 mL) finely chopped fresh herb such as basil, parsley, thyme, marjoram or a mixture, divided
1½ cups (375 mL) coarse fresh bread crumbs
2 to 3 tbsp (25 to 45 mL) olive oil
1/3 cup (75 mL) all-purpose flour
½ cup (125 mL) chicken broth
3 to 4 large plum tomatoes, seeded and diced
1 tbsp (15 mL) sweet smoked paprika or ordinary paprika
¾ to 1 cup (175 to 250 mL) sour cream
1. In turn, place each chicken breast into an unsealed freezer-weight plastic bag; flatten until about twice as big using the bottom of a heavy skillet or a flat kitchen mallet. Set aside. Cut 12 pieces of twine, each about 24 inches (60 cm) long.

2. In a medium frying pan, heat butter over medium heat until bubbly. Add half of onion and all of mushrooms; cook, stirring frequently, for 5 minutes or until onion is translucent and mushrooms are losing their moisture. Remove from heat. Stir in salt, pepper and half of herbs; then stir in crumbs. The mixture should be moist like turkey stuffing.

3. Place chicken, smooth-side down, on cutting board. Dividing equally, about ¼ cup (50 mL) each, place stuffing in centre of breast. Tuck in short sides over stuffing and roll up bird from long side nearest you. Tie firmly with twine, criss-crossing like a ribbon on a present. Trim twine ends; discard.

4. Heat 2 tbsp (25 mL) oil in a large heavy frying pan over medium heat until shimmering. Dredge each bird in flour; add to pan. Brown birds on all sides, adding more oil if needed and turning as a side becomes golden, about 8 to 10 minutes in total. Discard flour.

5. When birds are browned, push to sides of pan. Add remaining half of onions in pan centre; cook 2 to 3 minutes or until translucent. Add broth, tomatoes and paprika to pan. Bring to a boil; reduce heat, cover and simmer 20 minutes or until internal temperature of rolls measures 170°F (75°C). Remove birds to a heated serving dish; cover and let rest while completing sauce.

6. Let sauce bubble until slightly thickened, about 5 minutes. Stir in half of sour cream and remaining fresh herbs. Place chicken on serving plate, snip away twine and nap with some sauce. Garnish with a small dollop of sour cream and additional chopped herb. Serve with egg noodles or spätzle and steamed green beans.


SHARE