Chicken Liver Pâté
Winter 2011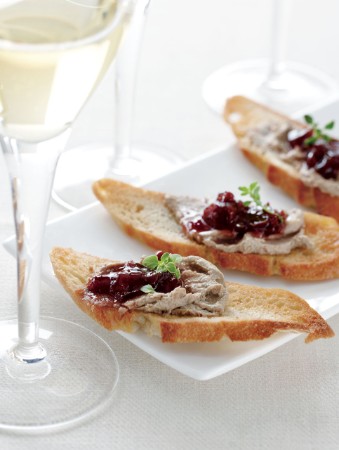 Chicken Liver Pâté
Winter 2011
BY: Lucy Waverman & James Chatto
This pâté is made in the style of pâté de foie gras with rich and sinful infusions of butter and cream. To give it an even more foie gras-like quality, we've included a slightly sweet gelée sauce for it. It will keep for 5 to 7 days as long as it is well sealed. Serve in slices as a first course or spoon onto toasted brioche with the gelée.
½ cup (125 mL) unsalted butter
½ cup (125 mL) chopped onion
1 tsp (5 mL) chopped garlic
1 lb (500 g) chicken livers, cleaned and cut in half
1½ tsp (7 mL) fresh thyme or ½ tsp (2 mL) dried
1 star anise (optional)
Salt and freshly ground pepper
1 tbsp (15 mL) sherry vinegar
1 tbsp (15 mL) Cognac
¼ cup (50 mL) whipping cream

TOPPING
2 tbsp (25 mL) unsalted butter, melted

GELÉE
¼ cup (50 mL) red currant jelly
2 tbsp (25 mL) sweet wine
2 tbsp (25 mL) chopped dried cherries
1 Heat ¼ cup (50 mL) butter in a skillet over medium-high heat. Add onion and sauté for 1 minute then add garlic and sauté for 30 seconds. Add chicken livers, thyme, star anise, salt and pepper and sauté for about 4 to 6 minutes or until chicken livers are still pink in the centre. Add sherry vinegar and Cognac and bring to a boil. Remove star anise, if desired, and transfer contents of skillet to a food processor.

2 Add cream and remaining butter and process until smooth, adding more salt and pepper as needed. Line a small loaf pan with plastic wrap. Spoon in mixture and smooth top. If there is any mixture left over, spoon into a small container and reserve for another occasion. Pour melted butter over top and chill for 4 hours or until set. Keep refrigerated until needed.

3 Combine redcurrant jelly, sweet wine and cherries in a small pot over medium heat and stir until melted. Cool. Remove pâté from pan, cut into slices or spoon onto brioche and serve with a drizzle of gelée.


SHARE