Chicken Kebabs with Carrot Tzatziki
Summer 2013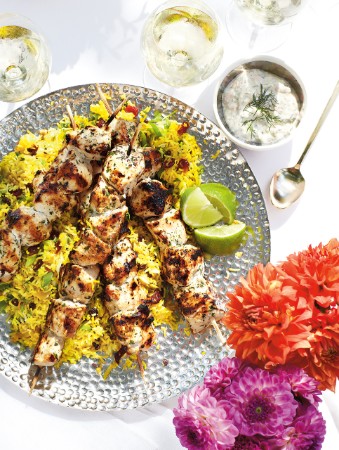 Chicken Kebabs with Carrot Tzatziki
Summer 2013
BY: Marilyn Bentz-Crowley
These flavourful kebabs are chic when served with Picnic Persian Rice or casual when tucked into a pita. Grated carrot can be simply mixed into purchased tzatziki; however, readily available thick Greek-style yogurt makes a much better version that is really quite simple to stir together.
CHICKEN
8 bamboo skewers, 10 inches (25 cm) each
8 single, skinless, boneless chicken breasts, or 16 boneless thighs (or a mixture)
3 to 4 large limes or 2 large lemons
2 large minced garlic cloves
⅓ cup (80 mL) olive oil
2 tbsp (30 mL) finely chopped fresh mint
2 tbsp (30 mL) finely chopped fresh parsley
1 tsp (5 mL) salt
¼ tsp (1 mL) cayenne

TZATZIKI
1 large garlic clove, minced
2 tbsp (30 mL) freshly squeezed lime or lemon juice
2 tbsp (30 mL) olive oil
1 tbsp (15 mL) finely chopped fresh dill
1 tbsp (15 mL) finely chopped fresh mint
½ tsp (2 mL) salt
1 container (500 g) thick Greek yogurt, about 2 cups (500 mL)
2 baby cucumbers or ⅓ English cucumber
½ cup (125 mL) finely grated carrot
1 Soak skewers in warm water (this keeps them from splintering when chicken is threaded). Cut chicken into generous 1-inch (2.5-cm) chunks. Dividing equally, thread onto skewers.

2 Place chicken in a 9 x 13-inch (3-L) baking dish or other shallow dish with sides. Finely grate zest from 1 lime; scatter over chicken. Squeeze ⅓ cup (80 mL) juice; stir in garlic, oil, herbs, salt and cayenne. Evenly spoon over kebabs. If grilling soon, let chicken sit at room temperature for 30 minutes; turn occasionally.Or, cover and refrigerate for up to 24 hours, turning once or twice.

3 To make tzatziki, mix garlic and lime juice in a mixing bowl; let stand 5 minutes. Stir in oil, herbs and salt then mix in yogurt. Very finely grate cucumbers; using your hands squeeze almost dry over sink. Add cucumber and carrot shreds to yogurt mixture. Stir. Covered and promptly refrigerated, tzatziki keeps for up to a week.

4 Preheat barbecue to high.

5 Grill chicken over a hot barbecue, turning frequently, for 12 to 15 minutes or until nicely browned and cooked through. Or preheat oven broiler and grill chicken 2 to 3 inches (5 to 8 cm) from element.

6 Serve hot, at room temperature or chilled. Cut each skewer in half if needed, to pack for transport. Covered and refrigerated, kebabs keep well for 2 days. Serve chicken with tzatziki.
SHARE