Chicken Dak Galbi
Winter 2018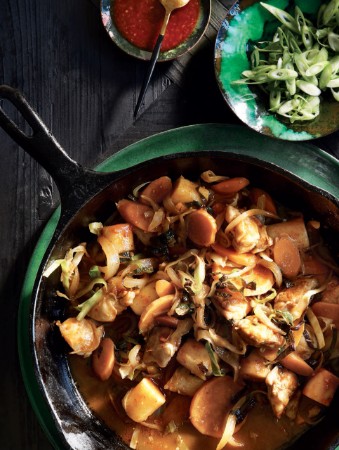 Chicken Dak Galbi
Winter 2018
BY: Lucy Waverman
This is a simple dish, all made in one pan and then served in it. A cast iron pan is best, but other heavy pans can be used too. Korean rice cakes are available at Asian grocery stores. They are fresh but quite hard so need to be precooked before adding into a dish. There are two kinds, some that look like larger orecchiette pasta and others that are cylindrical. We used the cylinder-shaped rice cakes for this dish. If using orecchiette-shaped rice cakes, blanch only for one minute. If these are unavailable, then serve the dish over rice noodles.
SEASONING SAUCE
3 tbsp (45 mL) soy sauce
2 tbsp (30 mL) gochujang
2 tbsp (30 mL) mirin
2 tbsp (30 mL) water
2 tbsp (30 mL) chopped garlic
1 tbsp (15 mL) chopped ginger
1 tsp (5 mL) Korean chili powder
2 tsp (10 mL) sesame oil

STIR-FRY
1½ lbs (750 g) boneless, skinless chicken thighs,  cut into approximately 1½ inch (4 cm) pieces
Salt and freshly ground pepper
2 cups (500 mL) Korean rice cakes
2 tbsp (30 mL) vegetable oil
3 cups (750 mL) shredded green cabbage, about ½ cabbage
1 sliced white or Spanish onion
4 medium carrots, cut on diagonal
8 oz (250 g) peeled and thinly sliced sweet potato

GARNISH
¼ cup (60 mL) sliced perilla or shiso leaves, about 3, optional
¼ cup (60 mL) sliced green onion, about 2
1. Combine soy sauce, gochujang, mirin, water, garlic, ginger, Korean chili powder and sesame oil for seasoning sauce. Season chicken with salt and pepper and toss with 3 tbsp (45 mL) of seasoning sauce, reserving the remainder.

2. Bring a large pot of water to a boil. Add rice cakes and cook until they float, about 2 minutes. Drain and immediately plunge in ice water to stop the cooking. Drain and reserve.

3. Heat oil over high heat in a large cast iron skillet or frying pan. Add chicken and toss to coat with oil, about 1 minute. Add cabbage, onion, carrots, sweet potato and rice cakes and toss together for 1 minute then stir in reserved seasoning sauce. Lower heat to medium and stir-fry ingredients together until chicken is cooked through, about 8 to 10 minutes. Remove from heat and stir in perilla leaves until wilted, about 1 minute. Garnish with green onion before serving.
SHARE