Chicken Chili Verde
Winter 2018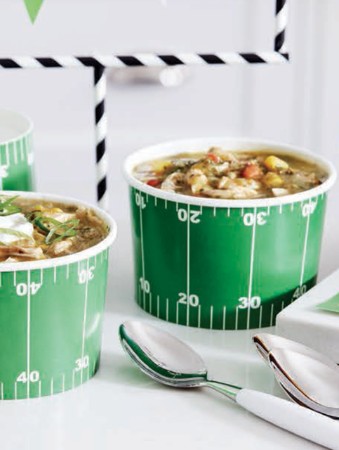 Chicken Chili Verde
Winter 2018
BY: Eric Vellend
Lightly spiced and tart with tomatillos, green chili is a revelation when you're used to its bolder red cousin. If you can't find fresh tomatillos, use 1½ cups (375 mL) canned and purée them with the pepper mixture after it has been roasted. Chili aficionados would consider pinto beans and corn as blasphemous additions, but they are undeniably delicious in this dish. Warmed corn tortillas are excellent on the side.
1 lb (500 g) tomatillos, husked
3 poblano peppers, cut into 2 inch (5 cm) chunks
2 cubanelle peppers, cut into 2 inch (5 cm) chunks
2 jalapeño peppers, cut into 2 inch (5 cm) chunks
2 medium onions, cut into 2 inch (5 cm) chunks
6 cloves garlic, peeled
2 tbsp (30 mL) vegetable oil
1 tbsp (15 mL) ground cumin
2 cups (500 mL) chicken stock
Salt to taste
3 lbs (1.5 kg) boneless, skinless chicken thighs
1 can (540 mL) pinto beans, drained, rinsed
1 cup (250 mL) frozen corn kernels
1 cup (250 mL) cilantro leaves, lightly packed
1 tbsp (15 mL) fresh lime juice
½ tsp (2 mL) cayenne pepper (optional)
Sour cream, thinly sliced green onion and lime wedges for serving
1. Preheat oven to 425°F (220°F).

2. On a large, rimmed baking sheet, toss tomatillos, peppers, onions and garlic with oil. Roast, stirring occasionally, until nicely browned and soft, about 25 minutes. Remove from oven.

3. In a food processor, pulse mixture until roughly puréed. Transfer to a large pot. Stir in cumin and chicken stock. Bring to simmer over medium heat and season generously with salt. Add chicken and cover. When it starts bubbling, adjust heat to maintain gentle simmer. Cook until chicken is very tender, 35 to 40 minutes. Remove pot from heat. Transfer chicken to baking tray. Remove ½ cup (125 mL) of cooking liquid and set aside.
4. Using 2 forks, pull chicken into thick shreds. Return chicken to pot with beans and corn. Bring chili to simmer over medium heat. Cook, stirring occasionally, for 10 minutes. Purée reserved cooking liquid and cilantro in a blender until smooth. Stir into chili. Stir in lime juice, and cayenne pepper if desired. Taste and adjust salt. Keep warm over low heat until ready to serve. Can be made up to three days in advance and reheated on the stove over medium heat, stirring occasionally, until hot.

5. Serve chili with sour cream, green onions and lime wedges.
SHARE