Chicken Caprese
Summer 2014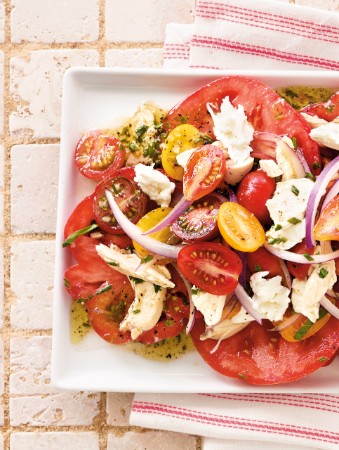 Chicken Caprese
Summer 2014
BY: Heather Trim
What makes a great Caprese salad? Juicy ripe summer tomatoes and fresh basil! To make it a main meal, yet still no-cook, pick up a deli chicken. Of course, your own leftover grilled chicken would be perfect too.
2 tbsp (30 mL) chives, snipped
1 garlic clove, minced
2 tbsp (30 mL) lemon juice
5 tbsp (75 mL) olive oil
Salt and pepper
2 medium tomatoes
1 cooked deli chicken breast, skin removed and thinly sliced
1 cup (250 mL) colourful cherry tomatoes
1 ball (125 g) or 2 balls (50 g each)buffalo mozzarella, torn into bite-size chunks, or 8 small bocconcini
5 medium basil leaves, coarsely torn
¼ cup (60 mL) thin strips julienned red onion
1 Place chives, garlic and lemon juice in a bowl. Whisk in oil. Season with salt and pepper.

2 Slice tomatoes and arrange on a platter. Arrange chicken over top, tucking into tomato slices if you wish. Drizzle with half the dressing. Cut any large cherry tomatoes in half. Place in a bowl, along with cheese, basil and onion. Gently toss with remaining dressing. Spoon over chicken. Excellent with crusty bread.
SHARE