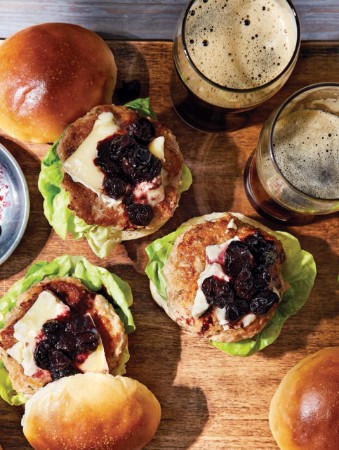 BY: Tonia Wilson-Vuksanovic
Anything but run-of-the-mill, this chicken burger gets some tang from a zippy chutney and some finesse from a knob of good bloomy-rind cheese, making it a burger worthy of its pairing.
1½ lbs (680 g) ground chicken
2 tsp (10 mL) soya sauce
2 tsp (10 mL) your favourite hot sauce
1 tbsp (15 mL) fresh sage, coarsely chopped
1 egg, lightly beaten
1 tbsp (15 mL) bread crumbs
1 tsp (5 mL) salt
1 tbsp (15 mL) vegetable oil
Butter or iceberg lettuce leaves to garnish
6 good-quality hamburger buns, sliced in half
About 5 oz (140 g) flavourful bloomy rind cheese, such as Camembert or Saint André
Cherry-Lime Chutney to garnish (recipe follows)
1. In a large bowl, mix together the chicken, soya sauce, hot sauce, sage, egg, bread crumbs and salt until well-combined. Divide the mixture into 6 equal-sized patties.

2. In a large skillet, heat oil over medium-high heat. Add burger patties and cook until golden on one side, about 5 minutes. Turn over and continue browning on the second side and continue cooking until cooked through. This may need to be done in 2 batches to avoid overcrowding the skillet.

3. Place lettuce on hamburger buns, top with a burger, then some cheese and chutney.
CHERRY-LIME CHUTNEY

Any leftovers of this chutney work beautifully as a condiment for grilled chicken or fish; it packs a punch of summer flavour.

1½ cups (375 mL) fresh or frozen cherries, pitted
2 tbsp (30 mL) cherry jam, but another complementary flavour will also do
2 tbsp (30 mL) red wine vinegar
1 tbsp (15 mL) lime juice
Zest of 1 lime, finely grated on a rasp
½ tsp (2 mL) ground cardamom
½ tsp (2 mL) ground ginger
2 tbsp (30 mL) brown sugar
2 tbsp (30 mL) water
1. In a small saucepan, add cherries, jam, vinegar, lime juice, lime zest, cardamom, ginger and brown sugar plus 2 tbsp (30 mL) water.

2. Cover and simmer over low heat for 20 minutes until the cherries have softened. Remove lid and continue to simmer until the mixture has thickened and become syrupy, to the consistency of honey. This will be about another 10 minutes; it may be longer with frozen cherries because of the increased water content.

3. Once thickened, place mixture in a glass bowl and let cool at least 20 minutes in the refrigerator before using. Ideally, it should be at room temperature.
Makes about 1¼ cups (310 mL)
SHARE