Chicken Burger with Chipotle Barbecue Sauce
Été 2008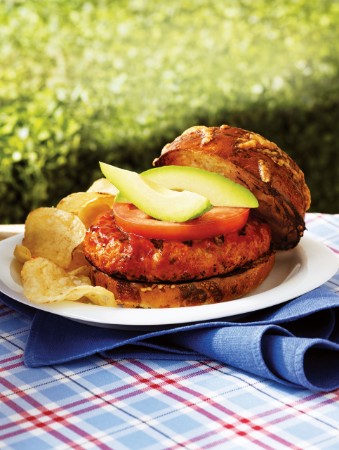 Chicken Burger with Chipotle Barbecue Sauce
Été 2008
BY: Tonia Wilson-Vuksanovic
Chipotle barbecue sauce packs a real punch, giving the mild chicken taste a helpful boost of flavour. Topping the burger with avocado and iceberg lettuce gives some great texture and a cooling effect for the pepper's piquancy.
2 lb (1 kg) ground chicken
¼ cup (50 mL) Vidalia or Spanish onion, finely chopped
1 tsp (5 mL) ground cumin
1 tbsp (15 mL) fine cornmeal
1 egg yolk
2 tbsp (25 mL) fresh cilantro, finely chopped
1 tbsp (15 mL) lime juice
1 tsp (5 mL) salt
6 cheese buns, halved crosswise

Garnish

Iceberg lettuce
Tomato slices
1 ripe avocado, peeled, pitted and sliced lengthwise
1. In a large bowl mix together chicken, onion, cumin, cornmeal, egg yolk, cilantro, lime juice and salt.

2. Once ingredients are combined, form the mixture into 6 equal sized patties of 1-inch (2.5-cm) thickness. Make sure not to compress the patties too tightly as this allows them to remain tender.

3. Prepare Chipotle Barbecue Sauce (recipe follows).

4. Heat the barbecue on high. Place patties on the grill and cook for 6 minutes on each side or until cooked through and no longer pink inside.

5. While cooking the burgers, baste generously with the Chipotle Barbecue Sauce (recipe follows).

6. While burgers are finishing, warm cheese buns on cooler part of the grill.

7. Serve burgers on buns topped with iceberg lettuce, tomato and avocado.

Chipotle Barbecue Sauce

1 tbsp (15 mL) vegetable oil
½ cup (125 mL) onion, finely chopped
2 cloves garlic, finely chopped
1½ cups (375 mL) ketchup
¼ cup (50 mL) molasses
½ chipotle pepper (or to taste), very finely chopped
1 tbsp (15 mL) yellow mustard
1 cup (250 mL) flavourful beer
1. In a small saucepan heat oil over medium heat, add onions and cook for 3 minutes. Add garlic and cook for 1 minute longer.

2. Add ketchup, molasses, chipotle pepper, mustard and beer.

3. Bring to the boil, then lower heat and simmer for 40 minutes or until thickened; it should be the consistency of a regular barbecue sauce. Remove from heat and cool.
SHARE