Chicken Braised with Green Olives, Lemon & Bay Leaves
Holiday 2012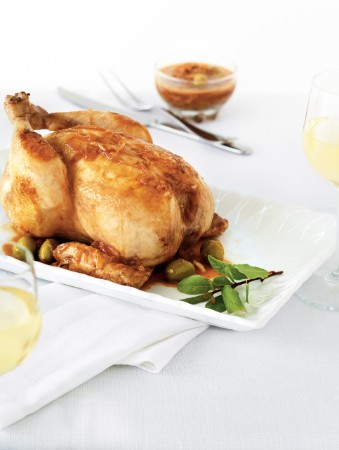 Chicken Braised with Green Olives, Lemon & Bay Leaves
Holiday 2012
BY: Julia Aitken
Loosely based on a traditional French poule au pot, this recipe features a whole chicken braised gently in white wine and flavoured with tangy lemon and lusty green olives. You can pit the olives or not as you wish but, if the latter, remember to warn your guests about the pits. Look for fresh bay leaves in your supermarket's produce department. A piece of boneless pork loin works well cooked this way, too. Braise it for 1 to 1½ hours, depending on size, until the internal temperature reaches 155°F (68°C).
1 whole roasting chicken, 3½ lbs (1.75 kg)
Kosher salt and freshly ground black pepper to taste
2 lemons
6 cloves garlic, peeled and crushed
6 fresh bay leaves
2 tbsp (30 mL) olive oil
1 sweet onion, thinly sliced
2 cups (500 mL) fruity white wine, such as Viognier
1 cup (250 mL) low-sodium chicken stock
1 cup (250 mL) green olives
1 Preheat the oven to 325°F (160°C) and adjust oven rack to lower-middle position.

2 Remove any lumps of fat from chicken's cavity. Season cavity with salt and pepper. Cut 1 lemon into quarters and put in cavity, along with 2 cloves garlic and 2 bay leaves. Truss chicken and pat very dry with paper towels. Sprinkle chicken all over with salt and pepper.

3 In a large Dutch oven or deep flame-proof casserole, heat oil over medium-high heat. Brown chicken, turning carefully (so as not to tear the skin) every 4 to 5 minutes, until golden brown all over, 15 to 20 minutes. Remove chicken to a large plate.

4 Pour off all but 2 tbsp (30 mL) fat from Dutch oven. Reduce heat to medium. Add onion and cook, stirring, until softened and golden, 3 to 5 minutes.

5 Add wine to pot and bring to a boil over high heat, stirring to scrape up any browned bits from bottom of pot.

6 Cut four 3 x ½-inch (8 x 1-cm) strips of rind from remaining lemon and add to the pot, along with stock and remaining garlic and bay leaves. (Reserve remainder of lemon for use in another recipe.)

7 Return chicken to pot, along with any juices that have accumulated on the plate. Bring to a boil, cover tightly and transfer pot to the oven. Cook for about 60 to 75 minutes or until a meat thermometer inserted in thickest part of breast registers 170°F (75°C).

8 Carefully remove chicken from pot to a warm serving platter. Cover loosely with foil and keep warm.

9 Discard bay leaves and lemon rind from cooking liquid. Add olives to pot. Bring cooking juices to a boil, pressing on garlic cloves to mash them up and combine them into the sauce. Let bubble until reduced by about half, about 15 minutes. Taste and add salt and pepper if necessary. With a slotted spoon, remove olives and arrange them around chicken. Spoon some of the reduced cooking juices around the chicken and pour remainder into a serving bowl.

10 Remove strings from chicken. Carve the chicken and serve with the cooking juices, along with crusty bread or potato gnocchi to mop them up.
SHARE