Chicken & Squash Tagine
Holiday 2016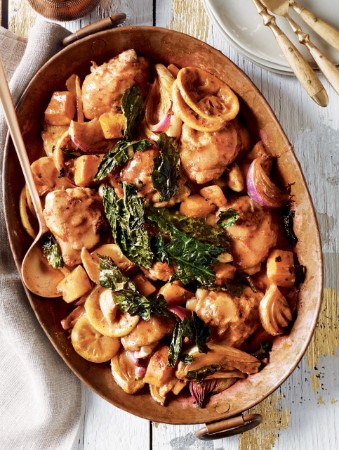 Chicken & Squash Tagine
Holiday 2016
BY: Lucy Waverman
Use kabocha or another drier squash like buttercup for this recipe. Make it in an ovenproof frying or sauté pan but transfer it to a tagine, if you have one, for an authentic look.
SPICE MIXTURE
1 tbsp (15 mL) ground ginger
1 tbsp (15 mL) ground cumin
1 tbsp (15 mL) Spanish paprika
½ tsp (2 mL) crushed red pepper flakes (or to taste)
½ tsp (2 mL) cinnamon
Salt and freshly ground pepper

8 chicken thighs, on the bone with skin, about 2 lbs (1 kg) total
¼ cup (60 mL) olive oil, plus more for brushing
1 small kabocha squash, about 1½ lbs (750 g), peeled and diced
1 fennel bulb, cut into ½ inch (1 cm) wedges with core intact
2 small red onions, cut into ½ inch (1 cm) wedges with core intact
1 lemon, thinly sliced
6 small cloves garlic, peeled
4 black kale leaves, thick stem removed
2 cups (500 mL) chicken stock
1 Preheat oven to 425°F (220°C).

2 Combine spice mixture in a small bowl. Toss chicken thighs with 1 tbsp (15 mL) oil and sprinkle with 1 tbsp (15 mL) spice mixture. Reserve.

3 Toss squash, fennel, onion, lemon and garlic with remaining oil and remaining spice mixture. Place in an ovenproof pan. Bake for 15 minutes.

4 Place chicken thighs on top and bake for 30 minutes or until thighs are golden and juices run clear. Brush kale leaves lightly with oil. Stir vegetables and lay kale leaves overtop vegetables and chicken. Bake another 5 to 8 minutes or until kale leaves are crisp.

5 Place chicken and vegetables in a tagine or on a serving platter, leaving juices in the pan and reserving kale leaves separately. Place pan over high heat on stovetop and pour in stock. Bring to boil, stirring to scrape up brown bits. Boil until sauce is thickened and flavourful, about 3 minutes, then pour over chicken and vegetables. Break kale leaves overtop for garnish.
SHARE