Cherry Tomato and Zucchini Sauté with Basil and Pine Nuts
Automne 2000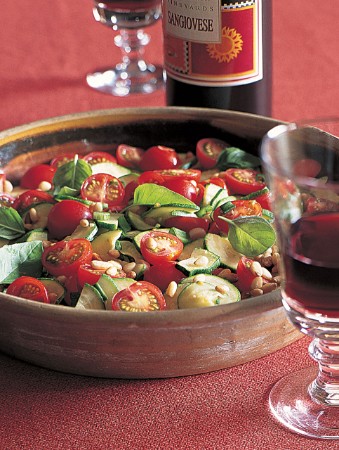 Cherry Tomato and Zucchini Sauté with Basil and Pine Nuts
Automne 2000
BY: Johanna Burkhard
Add 1/2 tsp (2 mL) cumin along with the tomatoes and use mint instead of basil for a Middle Eastern version of this colourful vegetable medley. To toast the pine nuts, place in a dry skillet over medium heat, stirring, for 3 to 4 minutes.
1 tbsp (15 mL) olive oil
3 small zucchini, halved lengthwise and thinly sliced
2 cups (500 mL) cherry tomatoes, halved
2 green onions, sliced
2 tsp (10 mL) balsamic vinegar
Salt and freshly ground pepper
2 tbsp (25 mL) chopped fresh basil
2 tbsp (25 mL) lightly toasted pine nuts
1. Heat oil in a large non-stick skillet over high heat. Add zucchini and cook, stirring, for 1 minute. Add cherry tomatoes, green onions and balsamic vinegar.
2. Cook, stirring, for 1 to 2 minutes or until zucchini is crisp-tender and tomatoes are heated through. Season with salt and pepper.
3. Sprinkle with basil and pine nuts and serve immediately.
SHARE