Cherry Tomato Flan
Winter 2005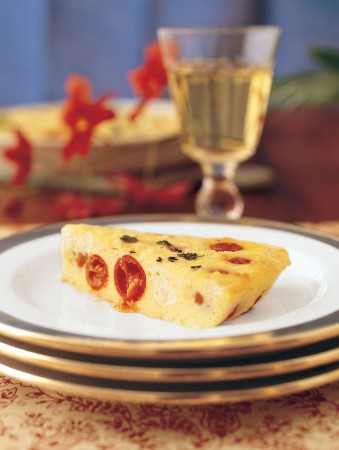 Cherry Tomato Flan
Winter 2005
BY: Cynthia David
A lovely flan for brunch or as a first course before dinner with a small green salad. Cut it up into squares and serve on toasts as an hors-d'oeuvre too.
¼ cup (50 mL) olive oil
2 tsp (10 mL) chopped garlic
2 tsp (10 mL) chopped fresh oregano
2 tsp (10 mL) chopped fresh thyme
2 cups (500 mL) cherry tomatoes, halved
Salt and freshly ground pepper
5 eggs
¼ cup (50 mL) whipping cream
4 oz (125 g) soft goat cheese
1. Preheat oven to 450°F (220°C).

2. In a small bowl, combine olive oil, garlic, oregano and thyme. Divide mixture in two and reserve.

3. Place tomatoes in a bowl and toss with half of herbed oil. Season with salt and pepper and lay skin side down on a parchment lined baking sheet. Bake for 15 minutes or until tomatoes are cooked but still juicy and just beginning to caramelize. Set aside to cool.

4. Turn oven down to 350°F (180°C). Butter a 9-inch (23-cm) ceramic flan pan or a 2.5 L rectangular gratin dish. Lightly oil dish. Place roasted tomatoes flesh side down in a layer on the bottom.

5. Beat eggs with cream, season well with salt and pepper and pour over tomatoes. Crumble goat cheese over top.

6. Place flan in a larger pan. Fill larger pan with enough hot water to reach half-way up the sides of the flan. Place in oven and bake for 30 minutes or until eggs have set.

7. Remove from oven and sprinkle remaining herbed oil over top. Serve hot or cold.
SHARE