Cheesy Mushroom Dog with Truffle Mayo
Summer 2014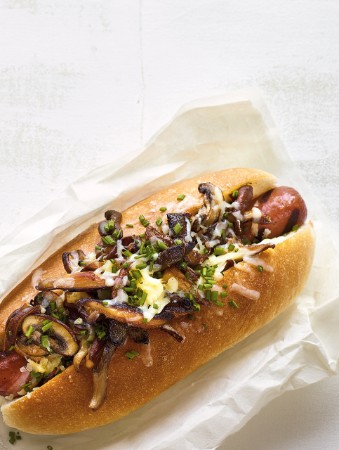 Cheesy Mushroom Dog with Truffle Mayo
Summer 2014
BY: Christopher St. Onge
Everything about this dog is suitably over the top, and sometimes that's exactly the way it should be. Because strength varies between brands of truffle oil, begin the mayo with the smaller amount of oil indicated, and add up to the larger amount as taste dictates. A combination of cremini, oyster and shiitake mushrooms makes for a fine mix for the garlicky mushrooms, but of course you can use other more exotic ones if you wish.
TRUFFLE MAYO
¾ cup (175 mL) olive oil mayonnaise
1 tbsp (15 mL) water
1 tsp (5 mL) lemon juice
1 tsp (5 mL) finely chopped rosemary
1 to 3 tsp (5 to 15 mL) truffle oil

GARLICKY MUSHROOMS
½ oz (15 g) dried porcini mushrooms
1 cup (250 mL) hot water
3 tbsp (45 mL) butter, divided
2 tbsp (30 mL) olive oil
1 lb (500 g) sliced mixed mushrooms
Salt and freshly ground pepper
4 cloves garlic, finely chopped

6 jumbo, smoked all-beef franks
6 hot dog buns
¼ cup (60 mL) butter, melted
6 oz (175 g) grated Gruyère
¼ cup (60 mL) chopped chives
1 To make the truffle mayo, whisk together mayonnaise, water, lemon juice and rosemary in a small bowl. Add 1 tsp (5 mL) truffle oil and stir to combine; taste and add more truffle oil to taste. Cover and refrigerate until ready to serve hot dogs (mayonnaise will keep in fridge for up to 5 days).

2 For the garlicky mushrooms, combine dried porcini and hot water in a small bowl; set aside for 30 minutes.

3 In a large sauté pan, heat 2 tbsp (30 mL) butter and the olive oil over high heat. Once butter is foaming, add sliced mixed mushrooms, season generously with salt and pepper, and cook, stirring from time to time, for 5 minutes, or until mushrooms have given up their liquid.

4 Meanwhile, remove porcini from water and squeeze lightly to drain; roughly chop. Reserve ¼ cup (60 mL) soaking water.

5 Add porcini and garlic to sauté pan, reduce heat to medium-low and continue to cook, stirring from time to time, for an additional 10 minutes, or until deeply golden. Remove from heat and immediately add reserved soaking water and remaining 1 tbsp (15 mL) butter; stir to melt butter and evenly coat mushrooms. Cover and keep warm while preparing franks and buns.

6 Preheat grill to medium-high.

7 Grill franks until hot, turning from time to time, about 8 minutes total. Open buns and brush interior of each with melted butter; grill for 1 minute or until golden. Remove franks and buns from grill, turn grill to low and close lid.

8 Spread a generous tablespoon (15 mL) of truffle mayo inside each bun; top with franks and divide mushrooms and cheese between hot dogs. Return hot dogs to upper rack of grill, close lid and heat until cheese begins to melt, 2 to 3 minutes.

9 Garnish each with an equal amount of chives.
SHARE