Cheddar-Stuffed Mushrooms with Wild Rice Crunch
Automne 2016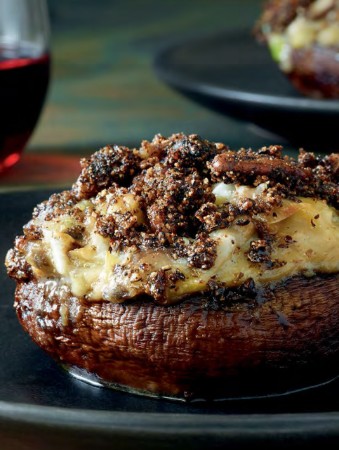 Cheddar-Stuffed Mushrooms with Wild Rice Crunch
Automne 2016
BY: Christopher St. Onge
Much like popcorn, wild rice can be popped, though perhaps not quite as dramatically. Exposed to dry heat in a skillet, they pop and split, modestly exposing their white interiors, and toast to a deliciously nutty flavour. Give them a whirl in a spice grinder, toss them with melted butter and chopped pecans and you have a seriously tasty topping to an already more-ish stuffed mushroom, a terrific side to simply prepared steak or chops.
¼ cup (60 mL) wild rice
¼ cup (60 mL) chopped pecans
¼ cup (60 mL) butter, divided
Salt and freshly ground pepper
6 large portobello mushrooms
8 oz (250 g) mixed mushrooms, roughly chopped
1 leek, white and light green part only, thinly sliced
1 clove garlic, finely chopped
2 tbsp (30 mL) flour
1 cup (250 mL) milk
2 tsp (10 mL) miso
1 cup (250 mL) coarsely grated old cheddar
3 green onions, chopped
2 tbsp (30 mL) Japanese soy sauce
2 tbsp (30 mL) neutral-flavour oil such as grape-seed or safflower
⅓ cup (80 mL) coarsely grated Parmesan
1 Heat a skillet with a tight-fitting lid over medium heat; add rice, cover and, shaking pan from time to time, pop and toast rice, about 2 minutes. (The amount of moisture in rice will determine how much the rice opens. The grains should be distinctly split and smell nutty.) Cool to room temperature and grind to a powder in a spice grinder. Turn out into a small bowl; add pecans. Melt 2 tbsp (30 mL) butter and pour over rice mixture. Stir to combine, season with salt and pepper and set aside.

2 Remove stems from portobello mushrooms; roughly chop and add stems to chopped mixed mushrooms.

3 Preheat oven to 425°F (220°C).

4 Melt remaining 2 tbsp (30 mL) butter in a large skillet over medium. Add leek and cook for 4 minutes, stirring, until wilted. Stir in garlic and mixed mushrooms, season with salt and pepper; cook for 8 to 10 minutes or until mushrooms are tender and pan is dry. Sprinkle flour over and stir to combine. Add milk and miso; continue to stir until smooth and thickened, about 2 minutes. Remove from heat, stir in cheese and green onions.

5 Combine soy and oil; brush it over both sides of portobello caps and arrange, hollow-side up, on a baking sheet. Divide cheese mixture between caps, then add Parmesan, then the wild rice mixture. Bake for 25 to 30 minutes or until portobellos are tender and cheese is golden at edges. Let stand for 10 minutes before serving.
SHARE