Mushroom Wellington with Quinoa and Spinach
Holiday 2020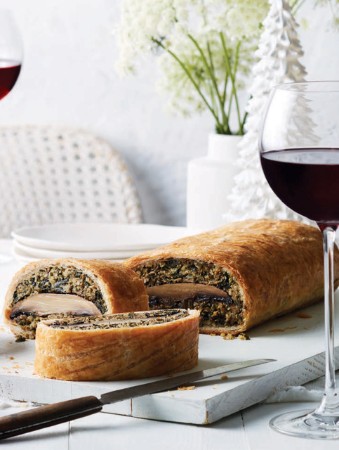 Mushroom Wellington with Quinoa and Spinach
Holiday 2020
BY: Eric Vellend
This vegetarian Wellington has the same august presentation as its beefy uncle but without any meat. Seek out all-butter puff pastry if‑you can, and if crème fraîche is not available, use full-fat sour cream. This recipe takes inspiration from Alexa Weibel's Vegetarian Mushroom Wellington in The New York Times.
4 portobello mushrooms, 4 inches (10 cm) in diameter
Extra virgin olive oil for brushing
Salt and freshly ground pepper to taste
1/2 cup (125 mL) white quinoa
1 lb (455 g) assorted mushrooms, roughly chopped
2 tbsp (30 mL) vegetable oil, divided
4 tbsp (60 mL) unsalted butter, divided
4 large shallots, finely chopped
5 cloves garlic, finely chopped
1 tbsp (15 mL) chopped thyme
1/2 cup (125 mL) dry white wine
1 pkg (300 g) frozen chopped spinach, thawed, squeezed dry
4 large eggs, divided, lightly beaten
1/2 cup (125 mL) panko bread crumbs
Flour for dusting
1 pkg (400 to 500 g) frozen puff pastry, thawed
Crème fraîche and finely sliced chives for serving
1. Preheat oven to 400°F (200°C).

2. Remove stems from portobellos. Roughly chop stems and set them aside. Place portobello caps on a parchment-lined baking sheet. Brush both sides with olive oil and season with salt and pepper. Arrange evenly gill-side up. Bake on the bottom rack until tender and browned for about 22 minutes. Remove from oven and cool.

3. While portobellos are roasting, bring a medium pot of salted water to a boil. Cook quinoa until tender, 12 to 15 minutes. Drain and transfer to a baking sheet to cool.

4. Working in batches, pulse assorted mushrooms and portobello stems in a food processor until no piece is bigger than 1/2 inch (1 cm).

5. Heat 1 tbsp (15 mL) oil and 1 tbsp (15 mL) butter in a large nonstick frying pan over medium-high heat. Add half of the mushroom mixture. Cook, stirring, until tender, about 7‑minutes. Season with salt and pepper. Transfer to the tray with quinoa to cool. Repeat the process with the remaining mushrooms.

6. In the same pan, reduce heat to medium and add the remaining 2 tbsp (30 mL) butter. When melted, add shallots. Cook, stirring, until soft and lightly golden, about 7 minutes. Add garlic and thyme. Cook 2 minutes. Add wine and raise heat to high. Cook, stirring often, until moisture evaporates, 2 to 3 minutes. Season with salt and pepper. Transfer to the tray with quinoa and mushrooms to cool.

7. Pat spinach dry with a paper towel and place in a large mixing bowl with cooled quinoa, sautéed mushrooms, shallot mixture, 3 eggs and panko. Mix thoroughly. Taste for salt and pepper.

8. Dust work surface with flour. Roll puff pastry into roughly a 12 x 17-inch (30 x 43 cm) rectangle. Make a rectangle of overlapping plastic wrap larger than pastry on the work surface then place the pastry on top with the longer end facing you. Spread half the filling in the centre of the pastry into a 4 x 13-inch (10 x 33-cm) rectangle. Place portobellos on top, gill-side up. Pat remaining stuffing on top of mushrooms. Use plastic wrap to lift one long side of the pastry overfilling. Brush a 1-inch (2.5-cm) band of remaining beaten egg along the pastry edge. Lift another long side over pastry overtop, stretching if necessary to overlap. Pat seam to seal. Brush exposed short ends of pastry with egg and pull back to seal. Carefully flip Wellington onto a parchment-lined baking tray so the seam side is down.

9. Brush pastry with egg wash and cut 3 evenly spaced 3/4-inch (2-cm) slits on top for steam vents. If desired, gently score pastry in a decorative pattern with a sharp knife, being careful not to cut all the way through the pastry. Bake on the middle rack until deeply golden brown, about 45 minutes. Cool for at least 20 minutes before cutting into thick slices and serving with crème fraîche and chives.
SHARE