Champagne Ham with Saffron-Shallot Sauce
Printemps 2012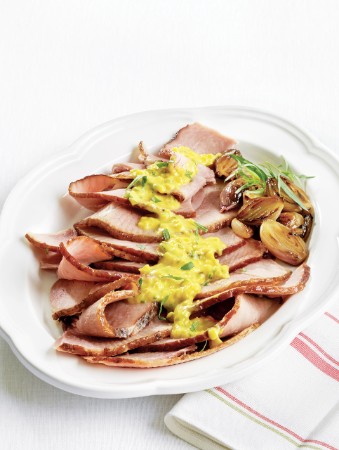 Champagne Ham with Saffron-Shallot Sauce
Printemps 2012
BY: Monda Rosenberg
Set the buffet table, break out the bubbly and let the oven take over. Bathing a spiral ham in sparkling wine adds a subtle sweetness and zing to the meat. Then using the rest of the sparkling wine in a heavenly cream sauce laced with shallots and fresh tarragon adds up to pure French luxury. This is not the time, however, to pop a good bottle, unless of course you want to sip the rest while finishing dinner. Since spiral-cut hams come thinly sliced there's no need to bring out the carving set, but it is essential to be on close watch while roasting or you could wind up with furled leathery slices. Don't subject them to the same temp usually used for hams—even if that's what the package directions recommend. Follow our easy "gently heat" method below. And for a divine use for any leftover saffron sauce, warm and drizzle over poached eggs and ham. But we warn you, eggs Benny will never be the same.
1 fully cooked spiral-cut smoked ham, 6 to 8 lbs (2.7 to 3.5 kg)
1½ cups (375 mL) Champagne, sparkling wine or Prosecco (see TIP below)
4 tbsp (60 mL) Dijon mustard, divided
¼ cup (60 mL) light brown sugar
2 tbsp (30 mL) butter
1 cup (250 mL) finely chopped shallots
1 cup (250 mL) whipping cream
¼ tsp (1 mL) salt
⅛ tsp (0.5 mL) or 1.25 g packet ground saffron or ½ tsp (2 mL) saffron threads
1 tbsp (15 mL) cornstarch
½ cup (125 mL) fresh tarragon leaves (optional)
1 Preheat oven to 250°F (120°C).

2 Place ham in a roasting pan, cut-side down. For basting, pour ¼ cup (60 mL) Champagne into a small dish. Generously brush over the entire surface of the ham. Cover with lid, or tent with foil and seal to the sides of the pan.

3 Bake ham 12 minutes per 1 lb (500 g), for a total of 1¼ to 1½ hours. Baste with Champagne every half hour. Stir 3 tbsp (45 mL) Dijon with brown sugar and set aside.

4 Meanwhile, start the saffron-shallot sauce. Melt butter in a medium-size saucepan over medium-low heat. Add shallots and stir often until softened, about 10 minutes. Pour in the cream. Add remaining tbsp (15 mL) Dijon. Sprinkle with salt and saffron, crumbling threads if using. Remove from heat and set aside.

5 After ham's initial baking, remove from the oven. Pour or spoon off any juices collected in the pan and save. Generously brush ham with Dijon-sugar glaze. Increase oven temperature to 325°F (160°C). Return pan to oven and roast, uncovered, until richly glazed, from 15 to 20 minutes.

6 As soon as ham is returned to the oven, strain pan juices and stir into the shallot cream mixture. Place over high heat. Pour in 1 cup (250 mL) Champagne. Once boiling, reduce the heat so mixture boils gently. Cook, uncovered and stirring occasionally, until reduced by half, about 10 minutes. Then stir the remaining ¼ cup (60 mL) Champagne with cornstarch until smooth. Stir into the hot shallot-cream mixture and stir gently for 3 minutes or until as thick as you like. Add tarragon if using. Taste and add more salt if needed. Pour warm sauce into a gravy boat or pitcher.

7 When ham is glazed, remove from oven and transfer to a cutting board. Spiral hams are partially sliced but slices are still attached to the centre bone and remaining portion of ham. Use a long knife to cut around the bone, freeing as many slices as needed. Then cut along the natural ham seam to remove slices. Arrange on a platter and pour some of the sauce overtop. If you have any extra shallots, sauté a few to use as garnish, if desired.

Serves 12 to 14

TIP A 375-mL bottle of sparkling wine such as Freixenet (LCBO 219782,) or Henkell Trocken (LCBO 40469,) works superbly in this recipe, adding a hint of citrus plus a mild but pleasantly sweet "baked apple" taste—perfect with ham.

SHARE