Scallop & Tuna Ceviche with Avocado Mousse
Temps des Fêtes 2012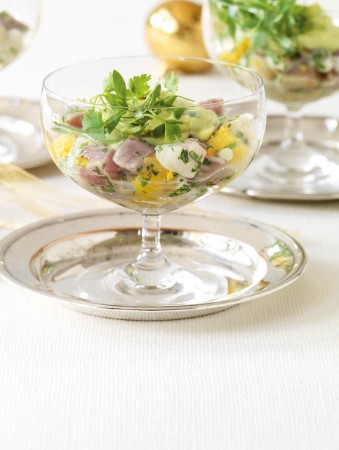 Scallop & Tuna Ceviche with Avocado Mousse
Temps des Fêtes 2012
BY: Christopher St. Onge
Ceviche, popular in Central and South America, relies on an acid, usually lime juice, to cure the raw fish. It's important to visit a reputable fishmonger, as freshness and quality is paramount here. Be wary however of "wet-pack" scallops that are preserved with phosphates and result in a bitter ceviche. Instead, ask for "dry-pack" scallops, as these contain no preservatives. Fresh examples should smell sweet and of the sea. Sushi- or sashimi-grade tuna is widely available, with B.C.-caught albacore a popular, and sustainable, choice.
CEVICHE
1 large seedless orange
8 oz (250 g) very fresh dry-pack sea scallops, about 1 inch (2.5 cm) in diameter
8 oz (250 g) very fresh sushi-grade albacore tuna, chopped into ½ inch (1 cm) dice
1 large shallot, diced
½ habanero or Scotch Bonnet pepper, ribs and seeds removed, finely diced
1/3 cup (80 mL) chopped cilantro
2 tbsp (30 mL) fresh orange juice
¼ cup (60 mL) fresh lime juice
¼ tsp (1 mL) good quality sea salt, such as Maldon
Freshly ground pepper

MOUSSE
1 small ripe avocado, peeled, pit removed
2 tbsp (30 mL) fresh lime juice
Pinch sea salt
2 tbsp (30 mL) extra virgin olive oil

Fresh cilantro sprigs or sprouts to garnish
1 For the ceviche, use a sharp knife to remove peel and pith from orange. Cut between membranes to remove sections of orange. Slice segments into ½-inch (1-cm) pieces. Place in a non-reactive dish, preferably glass, roughly 9 x 9-inches (23 x 23-cm).

2 Rinse scallops under cool running water and pat dry with paper towel. Working with 1 scallop at a time, remove small flap of muscle from the side if still attached. Slice through horizontally to form 2 equal discs.Stack and chop into ½-inch (1-cm) pieces. Repeat with remaining scallops.

3 Add scallops, tuna, shallot and habanero to dish containing orange pieces; sprinkle with cilantro, orange and lime juices, salt and pepper to taste. Gently toss to combine, cover and refrigerate for 2 hours, or until scallops and tuna have whitened and firmed.

4 For the mousse, combine avocado, lime juice and salt in a blender or food processor. Purée mixture until smooth, adding 1 tbsp (15 mL) water at a time, up to a maximum of ¼ cup (60 mL) if mixture is too thick. With motor running, drizzle in olive oil until combined. Cover and refrigerate until ready to serve.

5 Using a slotted spoon, divide ceviche between 6 small glasses or serving bowls, top each with an equal portion of avocado mousse and garnish with fresh cilantro.
SHARE