Celery, Chicken, Chive & Bean Salad
Early Summer 2017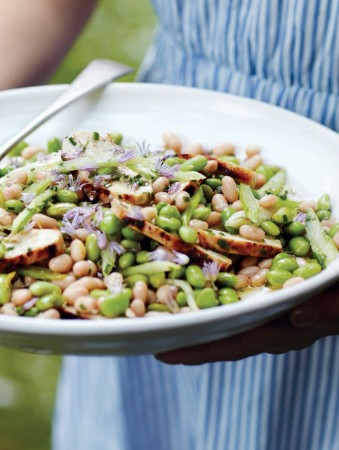 Celery, Chicken, Chive & Bean Salad
Early Summer 2017
BY: Christopher St. Onge
For the longest time I didn't think I liked bean salads, and then I tried one made with soft navy and soy beans. Now I love them, and I think you'll love this lemony, colourful version, too. The chicken breast is brined overnight, so begin a day ahead; otherwise it's all very easy, super-satisfying stuff that can be eaten as a main. If you have chives growing in your yard, use the flowers as a tasty garnish.
1½ cups (375 mL) buttermilk
½ white onion, thinly sliced
1 tsp (5 mL) celery salt
½ tsp (2 mL) coarsely ground black pepper
4 stalks celery, divided
2 boneless skinless chicken breasts, about 1 lb (500 g) total weight
⅓ cup (80 mL) olive oil
¼ cup (60 mL) lemon juice
1 tbsp (15 mL) lemon zest
1 clove garlic, finely chopped
1 tsp (5 mL) salt
1 can (398 mL) navy beans, drained and rinsed
2 cups (500 mL) shelled soy beans, cooked according to package directions
½ cup (125 mL) finely chopped chives, about 1 bunch
Chive flowers to garnish (optional)
1. In a medium resealable bag, combine buttermilk, onion, celery salt and pepper. Thinly slice 1 stalk of celery and add to bag along with chicken breasts. Seal and massage contents briefly to dissolve salt and coat chicken thoroughly. Refrigerate overnight.

2. Preheat barbecue to medium and oil grill. Remove chicken from brine, pat dry and cook for 6 to 7 minutes per side, until juices run clear or internal temperature reaches 165°F (74°C). Remove to a board and let rest while preparing remaining ingredients.

3. In a large serving bowl, whisk together olive oil, lemon juice, lemon zest, garlic and salt. Cut remaining 3 stalks of celery in half lengthwise and thinly slice on the bias; add to bowl along with navy and soy beans. Sprinkle chives over. Slice chicken into bite-sized pieces, add to salad and gently toss to combine.

4. If using chive flowers, separate individual flowers from 4 or 5 ball-shaped heads and sprinkle over salad before serving.
SHARE