Celery Gratin
Spring 2017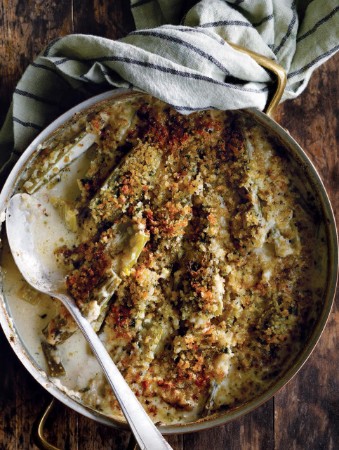 Celery Gratin
Spring 2017
BY: Lucy Waverman
My favourite way to make celery, and a test-kitchen favourite. If you don't like Gorgonzola or other blue cheese, use Gruyère with a sprinkling of Parmesan on top.
1 head celery
3 cups (750 mL) chicken or vegetable stock, or more if needed
½ small onion, halved
1 dried chili (optional)
1 cup (250 mL) whipping cream
1 cup (250 mL) crumbled Gorgonzola
Salt and freshly ground pepper
½ cup (125 mL) panko bread crumbs
1 tbsp (15 mL) butter
1. Trim off base of celery. Remove leaves and chop, reserving 2 tbsp (30 mL) for garnish, and keeping the remainder for another use.

2. Cut stalks into 3-inch (8-cm) pieces. Combine stock, onion and chili (if using) in a large skillet. Bring to a boil and add celery. Top up stock if necessary to cover celery. Return to boil then reduce heat to medium and simmer for 25 to 30 minutes or until celery is tender.

3. Preheat oven to 350°F (180°C). Butter a 10-inch (25-cm) gratin dish.

4. Using a slotted spoon, remove celery to prepared gratin dish. Continue simmering stock for 5 minutes or until about 1 cup (250 mL) remains. Remove and discard chili and onion. Add cream and boil until cream begins to thicken, about 5 minutes. Crumble in blue cheese. Season lightly with salt. Season with pepper. Pour over celery.

5. Combine bread crumbs and reserved chopped celery leaves. Sprinkle over celery. Dot with butter. Bake for 25 minutes or until sauce bubbles and bread crumbs are golden.
SHARE