Celeriac and Pear Soup with Stilton and Walnuts
Holiday 2007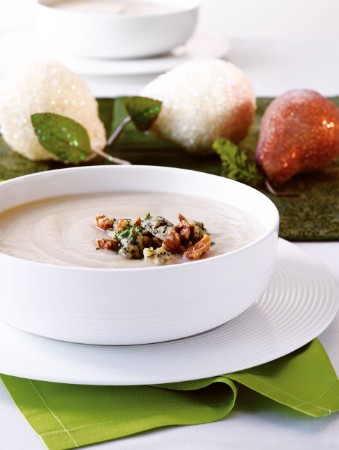 Celeriac and Pear Soup with Stilton and Walnuts
Holiday 2007
BY: Marilyn Bentz-Crowley
Knobby celeriac is not very attractive, but inside hides a delicious interior, which is used quite effectively with pear in this appealing soup.
1 medium celeriac, about 1½ lbs (750 g)
2 ripe pears
1 medium Yukon Gold potato
1 tbsp (15 mL) butter
1 medium onion, diced
2 cloves garlic, sliced
4 cups (1 L) chicken stock or broth
1 bay leaf
4 to 5 oz (125 to 150 g) Stilton cheese
½ cup (125 mL) toasted walnuts, copped
¼ cup (50 mL) finely chopped fresh parsley
½ cup (125 mL) whipping cream
½ tsp (2 mL) salt
¼ tsp (1 mL) freshly ground black pepper
1. Using a chef's knife, trim off outside of celeriac until creamy white interior is visible; some brownish spots remain. Cut celeriac into 1-inch (2.5-cm) dice. Peel, core and cut pears into chunks. Peel potato; cut into chunks.

2. Melt butter in a large saucepan over medium heat. Add onion and garlic; cook 5 minutes, stirring occasionally. Stir in celeriac, pear and potato; add stock and bay leaf. Bring to a boil; reduce heat and simmer 20 to 25 minutes or until vegetables are tender. Discard bay leaf.

3. Meanwhile, crumble Stilton with a fork; stir in walnuts and parsley. Cover and set aside at room temperature or up to half a day in the refrigerator.

4. When vegetables are tender, purée soup in batches in food processor or blender. Return to saucepan. Stir in cream, salt and pepper. Taste and adjust seasoning as needed. (If making ahead, cover and refrigerate soup for up to 3 days. Soup does not freeze well due to the potato.) Reheat soup until hot, but do not boil. Ladle into warmed soup bowls; garnish with a small spoonful of cheese mixture.
SHARE