Cauliflower with Salsa Verde Vinaigrette
Automne 2015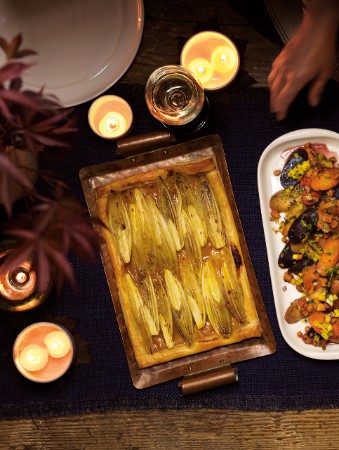 Cauliflower with Salsa Verde Vinaigrette
Automne 2015
BY: Lucy Waverman
Whole cauliflower roasted in the oven is a trend right now. It needs a good sauce to brighten the flavours, and this take on a salsa verde uses arugula and watercress to give a pepperiness to the salsa. If the inner green sprout of the garlic is large and green, remove it to avoid making the sauce too pungent.
1 head cauliflower, 3 lbs (1.5 kg)
¼ cup (60 mL) olive oil
Salt and freshly ground pepper

VINAIGRETTE
½ cup (125 mL) chopped arugula
½ cup (125 mL) chopped watercress
2 tsp (10 mL) chopped garlic
2 tsp (10 mL) grated lemon zest
½ cup (125 mL) olive oil
½ cup (125 mL) shredded Parmesan
1 Preheat oven to 450°F (230°C).

2 Remove core from cauliflower, carefully leaving head intact. Place in an oiled cake pan. Pour olive oil over cauliflower and use a brush to work into cracks. Season with salt and pepper. Bake for 50 minutes or until a skewer goes easily through the head.

3 Pulse together arugula, watercress, garlic and lemon zest in food processor. While running, add oil. Remove from food processor and stir in half of Parmesan. Season with salt and pepper. Pour vinaigrette over cauliflower and top with remaining cheese. Garnish with extra watercress. Cut into slices (like a cake)and serve warm.
SHARE